It was everything to play for in terms of the showdown at Oulton Park for races two & three of the British Superbikes Championship.
Race Two saw James Ellison, Leon Haslam and Dan Linfoot break away from the rest of the pack, but the Kawasaki duo left Linfoot for dust as Leon Haslam took his second race win of the weekend. Ellison finished in a stylish second, which means he is the fourth rider to be confirmed in the showdown.
Showdown favourite Michael Laverty was putting in a solid performance, but crashed out on the last lap of the race. At the end of race one, he still sits in sixth overall but as Peter Hickman and Luke Mossey sit equal on points, they are slowly catching up to him and there are now only two points between the three. His team mate Christian Iddon is now out of championship contention, as his 11th place finish in race one leaves him too far behind to catch up.
Shakey Byrne had a small off during the race, but was unhurt. He was one of the first riders to be confirmed for the showdown so his championship chances are still high and he is the favourite for the win.
John Hopkins on the ePayMe Yamaha was putting in a really good race and was on for his best finish of the season, but unfortunately crashed out at Shell, thankfully uninjured.
At the end of race one, Dan Linfoot, Michael Laverty, Peter Hickman, Luke Mossey and Richard Cooper are left to fight it out for two showdown spots.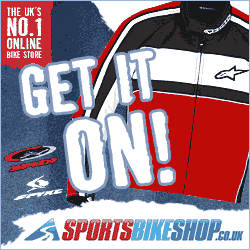 BSB Race Two
Leon Haslam – JG Speedfit Kawasaki
James Ellison – JG Speedfit Kawasaki
Dan Linfoot – Honda Racing
Jason O'Halloran – Honda Racing
Luke Mossey – Quattro Plant TecCare Kawasaki
Tommy Bridewell – Bennetts Suzuki
Peter Hickman – JG Speedfit Kawasaki
Jake Dixon – Briggs Equipment BMW
Glenn Irwin – Be Wiser Ducati
Ryuichi Kiyonari – Smiths BMW
---
Race three saw Jason O'Halloran get off to a fantastic start, but James Ellison wasn't going to give up easily. They battled for first, until the safety car was deployed following a nasty crash from Jake Dixon who had to be stretchered off.
[fbvideo link="https://www.facebook.com/britishsuperbike/videos/10153899002358097/" width="688″ height="466″ onlyvideo="1″]
Ellison was forced to retire from the race with technical issues, leaving O'Halloran to swiftly take the lead as the safety car went in. But Leon Haslam was out to get a hatrick of wins, and that's exactly what he did, aided by O'Halloran also having to retire from the race.
It all came down to the last few laps, with Michael Laverty and Luke Mossey both trying to compete for the final place in the showdown. It looked like it could've been over for Dan Linfoot as he crashed, but thankfully for him Laverty was too far back – even though he was running in fourth – to really threaten his showdown chances.
In the end, Haslam took his third win this weekend, followed by Luke Mossey and Tommy Bridewell.
The final six in the showdown will begin to compete for podium credits next weekend at Donington Park.
BSB Race Three
Leon Haslam – JG Speedfit Kawasaki
Luke Mossey – Quattro Plant TecCare Kawasaki
Tommy Bridewell – Bennetts Suzuki
Michael Laverty – Tyco BMW
Shane Byrne – BE Wiser Ducati
Richard Cooper – Buildbase BMW
Peter Hickman – JG Speedfit Kawasaki
Lee Jackson – Buildbase BMW
Christian Iddon – Tyco BMW
Broc Parkes – ePayMe Yamaha
---
Championship standings at the end of round 9
Leon Haslam – 326 points
Shane Byrne – 290 points
Jason O'Halloran – 237 points
James Ellison – 180 points
Luke Mossey – 173 points
Dan Linfoot – 172 points
Michael Laverty – 168 points
Peter Hickman – 162 points
Richard Cooper – 157 points
Tommy Bridewell – 135 points