British Superbikes heads to not so sunny Cheshire for round nine of the season at Oulton Park. This weekend sees a triple header to decide the final six for the showdown.
Only three riders – Shane 'Shakey' Byrne, Leon Haslam and Jason O'Halloran have been confirmed for the showdown with Michael Laverty, Dan Linfoot, James Ellison, Luke Mossey, Richard Cooper, Peter Hickman and Christian Iddon all battling for the final three showdown spots.
Qualifying 1 saw the likes of Ryuichi Kiyonari (who is now back in BSB after parting ways with Bennetts Suzuki, on the Smiths Racing BMW), Alastair Seeley, Stuart Easton and Jack Kennedy knocked out of the top 18, meaning they would not progress to Q2. Ellison set the fastest lap of the session with a 1:34.492, followed by team mate Leon Haslam and Buildbase BMW's Richard Cooper.
Qualifying 2 saw the top 18 battle it out for just 9 spots to go through to Q3. The Tyco BMW duo of Christian Iddon and Michael Laverty were knocked out of the top nine, meaning they will have to fight even harder this weekend if they want to secure their place in the showdown. Bennetts Suzuki's Tommy Bridewell finished the session on top, ahead of Shane Byrne and Leon Haslam.
After Q2, it was announced that instead of running Superpole – where each rider goes out on their own and sets a fast lap – they would run Q3 due to the risk of rain. That certainly didn't phase Shakey, who not only set the fastest lap and took pole position ahead of Tommy Bridewell and Leon Haslam, but made history by being the first rider to do a lap of Oulton Park in under 1:34!
The top nine riders all finished within less than a second of each other and the top seven all finished with times inside the standing lap record, which you've got to admit, is pretty impressive!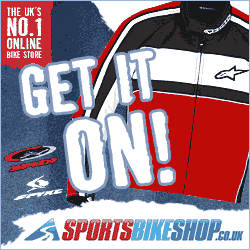 Ahead of his first row start, Tommy Bridewell is feeling fairly confident that he will do well in race one and that he's proving that the GSX-R is a competitive bike,
"It's good to be on the front row. We had a little issue in FP1, so really FP2 was our only session before qualifying, as it was damp this morning, so for us to go out and do a lap time of 1:34 flat is really good. But I'm also disappointed as I didn't get a clean lap, so I think we can go even quicker. There's more in the bike if we get everything right, and we're proving that the GSX-R is competitive. I'm confident of our race-pace, and if we can get a good start we can get a good result. Everyone knows I'll have a go."
---
Qualifying 3 Results
Shane Byrne: 1:33.933s
Tommy Bridewell: 1:34.070s
Leon Haslam: 1:34.122s
Jason O'Halloran: 1:34.199s
Luke Mossey: 1:34.211s
James Ellison: 1:34.318s
Peter Hickman: 1:34.474s
Richard Cooper: 1:34.646s
John Hopkins: 1:34.715s
---
An incident filled race one saw the JG Speedfit Kawasaki team dominate the podium, with all three riders having a fantastic race and achieving something that has never been done before.

Leon Haslam took the victory, with a four and a half second lead on James Ellison and a seven and a half second lead on Peter Hickman. James Ellison has managed to bump his championship chances up and it is looking likely that he will head into the showdown.
Shakey Byrne was looking strong throughout the race, until he ran off track while he was preparing to make a move to second place. He managed to save it, but re-joined and ended the race in 9th. Shakey was out looking for podium credits as his showdown spot cannot be taken away from him, but unfortunately it was not meant to be for the Ducati rider.
We saw a few more crashes, notably a huge off for Tommy Bridewell. He looked extremely winded but thankfully he was up and okay. Glenn Irwin also went down at Lodge corner, scuppering what little showdown chances he had. We also lost Christian Iddon, who is really pushing for good results this weekend to get himself into the showdown. He still sits 35 points outside of the top six, so it is not impossible for him as long as he finishes strongly in the two races tomorrow.
It's all to play for tomorrow, as Peter Hickman, Richard Cooper, Luke Mossey and Christian Iddon battle to get into the top six and James Ellison, Dan Linfoot and Michael Laverty battle to stay in.
---
British Superbikes Race One
Leon Haslam – JG Speedfit Kawasaki
James Ellison – JG Speedfit Kawasaki
Peter Hickman – JG Speedfit Kawasaki
Jason O'Halloran – Honda Racing
Dan Linfoot – Honda Racing
Richard Cooper – Buildbase BMW
Luke Mossey – Quattro Plant TecCare Kawasaki
Michael Laverty – Tyco BMW
Shane Byrne – Be Wiser Ducati
Lee Jackson – Buildbase BMW
---
Championship standings after race one
Shane Byrne – 279 points
Leon Haslam – 276 points
Jason O'Halloran – 224 points
James Ellison – 160 points
Dan Linfoot – 156 points
Michael Laverty – 155 points
Peter Hickman – 144 points
Richard Cooper – 143 points
Luke Mossey – 142 points
Christian Iddon – 120 points.