Does anyone remember the days before cameras and phones became the same device?
After showcasing their – then forthcoming – Scrambler in a bright yellow shipping crate to the amassed hordes of Ducatisti in 2014, we knew that Ducati would be planning something for this year's event.
In a special room, one that was supposed to be camera and phone free, attendees were able to take a sneak peek at an entirely new model that will be officially announced at EICMA in 2017. That new model is the 'Supersport', and the 'Supersport S'.
No details have been announced about the bike, and the spyshot that you see in this article is the only leak that we've been able to find so far, but already it gives us a pretty good glimpse at what to expect.
As befits the Supersport moniker, this looks like being a much more 'road focused' motorcycle and whilst it clearly takes styling cues from the Panigale range, we can see a few, distinct differences.
A trellis frame, possibly from the Monster is the first major difference – and will be pleasing for those people who had wished for a more 'focused' monster when it was revealed that Ducati were working on a reveal. And don't let the angle of this hastily captured phone shot fool you; we're pretty certain that this bike doesn't have a fairing that is molded into the fuel tank!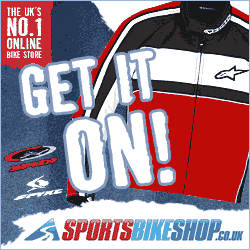 Ohlins suspension is in full view, as is a single-sided swingarm and what looks like a removable seat cowl to allow for pillion passengers. Our bet would be that – as designated by the red 'S' on the photograph – that these form the main additions for the Supersport S model over the standard model.
Just like their parent company Audi, Ducati have made great strides of late in blurring the lines between the different sectors of the bike-buying industry; the X-Diavel for those cruiser riders who may want a more 'sporty' machine, the Scrambler for the mode 'retro' focused buyer who still want the modern comforts and the Multistrada Enduro for those Adventure riders who might actually want to do a bit of off-road riding every now and then.
Now to this list, we can add the Ducati Supersport. The road-going sports bike that will be firmly aimed at those riders who want something tuned a little bit more for the road than the track.