In another weather-affected race, Marc Márquez pulled off a strategic masterclass to win at Sachsenring for the seventh year in a row.
By the time the MotoGP riders formed the grid the rain had returned to the German track, and although it stopped again before the start, it meant the race was declared wet with plenty of water lying around to cause them problems.
Marc Márquez was on pole and was joined on the front row by Hector Barbera and Valentino Rossi. When the lights went out, all three got a great start and stormed off into the first corner. Further back Scott Redding had a terrible start when he veered sideways off the line, coming very close to the other riders around him.
At turn one it was Márquez still holding the advantage with Rossi in second, while Danilo Petrucci had boosted himself to third. By turn three, however, Rossi had taken to the front as he swept into the lead at the Omega corner. Márquez was then pushed further back when Andrea Dovizioso moved into second place at turn eight, followed by Petrucci also passing Márquez at turn 12 before Márquez took back the position.
By the end of the first lap, Jack Miller had made a fantastic improvement, gaining 10 places from his qualifying position of 16th. Yonny Hernandez soon became the first MotoGP casualty as he crashed out at the last corner.
On lap three, the lead changed again when Dovizioso hit the front at turn eight, with Petrucci also following him through into second a few corners later at turn 12.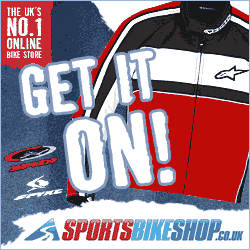 Turn 12 then proved to be prosperous for Petrucci again, when on lap four, he took the lead from his fellow Italian Ducati rider Dovizioso. The laps continued to drop, with Márquez being passed by Assen winner Jack Miller and the Spaniard soon became a target for Barbera as well. While his team-mate Dani Pedrosa had made decent progress and was able to get past Andrea Iannone to take seventh.
Petrucci still held the lead from Dovizioso and Rossi, while further back Jorge Lorenzo was attempting to hold off the two Suzukis. Cal Crutchlow put in a great pass on Pol Espargaró by going around the outside of the Spaniard at turn one, leaving him in a position to fight for eighth with the Ducatis of Iannone and Redding.
With 20 laps still remaining, race leader Danilo Petrucci crashed out at turn three when the front simply washed out from beneath him, in what is now a typical Michelin-era crash. He was able to rejoin, before later pitting due to a fire breaking out underneath his Desmo's fairing. Then further drama came when Márquez ran off-track at turn eight after touching a damp patch, later attributing his reaction to his time on the dirt track, he was able to avoid a crash and rejoin.
By lap 12 there was a visible dry line forming as Dovizioso led from Rossi and Miller, although the Australian was then overtaken by Barbera who was making a great comeback after losing his front row advantage. At the end of the next lap, Iannone was the first in to change tyres and he took a big gamble by exiting on intermediates. Loris Baz was the next to pit and he went back out with an intermediate front and a slick rear, before then repitting not long after to change to an intermediate rear…something he admitted after the race, may have been a mistake.
On lap 16, the Crutchlow crusade began as the British rider was the fastest man on track as he made his way into fifth place. By this point, the question in everyone's mind was when will the rest pit?
On the next lap, Márquez decided to take the gamble as he entered pitlane and swapped to his second bike which was fitted with slicks front and rear, an incredibly brave move at that point which ultimately proved to be a stroke of genius.
Pol Espargaró and Bradley Smith both came into the Tech 3 pits in quick succession, although Espargaró crashed at turn two soon after he headed back out.
With 12 laps left, Dovizioso still held the lead from Rossi and Barbera, but Crutchlow was right on Barbera's tail and still there was the unanswered question of when they would enter the pits. On lap 20 Rossi's team put the pitboard out saying "BOX", as did Dovizioso's Ducati team.
It proved to be a perfect call by the teams as on the next lap Iannone put in the quickest time on the intermediate tyres he had already swapped to. But the front group ignored the call to come in and continued round more than once, while the pitboards still clearly told them to box.
Thanks to Márquez's early swap he was now miles quicker than those in front of him, and he swept past current World Champion Jorge Lorenzo with ease as he was almost five seconds quicker than the leaders.
As Dovizioso, Rossi & co continued to pass by the pit entry, members of Rossi's team threw their arms in the air in disbelief, what was he doing?! Memories of Misano 2015 returned when Yamaha had got their strategy badly wrong in similar conditions. Rossi's team-mate, on the other hand, had waited for his team to call him in and then did so, although Lorenzo said after the race that he felt the call had been a bit late and that had it come earlier he might have finished higher.
With nine laps to go, the front tyre on those yet to pit was visibly at the end of its life. Crutchlow pushed up into third place, while Márquez was now up to sixth and still gaining rapidly.
Finally, on lap 23, Dovizioso, Rossi, Crutchlow and Barbera entered the pits. This left Miller in the lead for the second race in a row, but with the Aussie still on wet tyres it came down to damage limitation as Márquez was boosted to second place and he was still by far the fastest on track. When the double MotoGP champion reached Miller he simply sailed past as though he weren't there and took the lead.
Miller later pitted with Redding in second and Dovizioso in third. On lap 28, it was Crutchlow who was again setting the pace. The Brit passed Dovizioso at turn 13 before then also passing his compatriot Redding at the start of the last lap. It wasn't an easy pass for Crutchlow as he explained that he had locked the front as he made the move into turn one and was desperately trying not to crash at such a vital late stage.
Márquez was miles ahead of the competition and crossed the line without another rider in sight, to take his third win of the season so far. Crutchlow was able to maintain second place, while there was more misery for Redding as Dovizioso passed him to take the final podium position.
WHAT THE FUCK … any way today was good day from last to 4th is okay I suppose. But don't get me wrong I am gutted too

— ReddingPower 5⃣ (@Reddingpower) 17 July 2016
While weather and strategy certainly played a part in the results, the German Grand Prix was a Márquez masterclass as he showed once again how good he is at managing even the trickiest of conditions. With his previous record at the track, he'd been the man to beat before the weekend even began, despite Honda's recent woes. This result doesn't mean that bike is fixed and if anything, their dominance despite their mechanical woes will cause the likes of Yamaha even more concern.
Rossi was clear on Saturday when he said: "if it's very very cold we are in big big trouble because we are not able to ride the bike." In the race, it was really the mixed conditions that caused him to lose valuable points in the championship hunt, had it stayed fully wet he probably would've achieved a podium place, but he said that after the bike swap he simply didn't have any feeling from the bike. For his team-mate Lorenzo, this weekend has been one to forget, but also one to learn from. A weekend with three crashes is almost unheard for the World Champion and his lack of confidence in wet conditions, is something he must remedy and he suggested after the race that some wet weather training might be on the cards.
For Ducati, the Germany weekend turned out to be a pleasant surprise. They've traditionally struggled but this weekend they achieved some good results and can take big positives from the improvements they've made.
For German rider, Stefan Bradl, his home race was again one he couldn't take part in. Bradl crashed heavily in morning warmup and was taken to the local hospital with a concussion. He was later released and will now recover at home.
After nine races, Márquez leads the championship standings by 48 points from Lorenzo, after doubling his advantage this weekend. Before the second half of the season, there's just under four weeks for the riders to rest and recuperate before the hectic schedule of nine races in 13 weeks. Although, most of MotoGP will have to wait a few days before hitting the beach as they've got a two-day test in Austria, where the next race will be held. KTM, who are joining MotoGP next year, will be present, while the Repsol Honda team are sitting this one out after visiting the track last month.
Cal Crutchlow recorded the fastest lap in the race so he was presented with the Sachsenring Ring by the track promoters. More exciting gifts are on their way to him and his wife Lucy as they are expecting their first child to be born in the weeks before the next race!
While Marc Márquez today made it seven consecutive German Grand Prix wins, all from pole position, giving him the well-deserved title of SachsenKing.