A stark reminder of just how dangerous TT racing can be.
We've sadly been struck with two tragic deaths in this year's 2016 Isle of Man TT. Sidecar racer Dwight Beare lost his life during the first Sidecar race earlier in the week, and shortly after we heard news of TT veteran Paul Shoesmith being killed whilst out in solo practice for the week's racing.
If ever there was a race series in the calendar that leaves a spectator in awe of the dedication and all-out courage that riders have to compete then the Isle of Man TT is it. This video is testament to that.
During the Superstock TT, James Cowton fell and launched himself and his bike into the crash barriers at considerable speed. He was being followed closely by Horst Saiger on his ZX-10R.
Saiger managed to react enough to slow down his bike just before Cowton came flying back off from the recticel crash barrier and into the path of his slowing – but still incredibly fast moving – bike.
How Jamie Cowton managed to get up, walk away and survive a collision like this with nothing more than just a few bumps, scrapes and bruises is anybody's guess.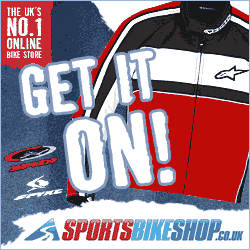 Saiger managed to continue his race and even with the contact to Cowton, he secured 13th position and grabbed a personal best.
Incredible.