Just a taste of some of the obscure and exclusive bikes that you could 'virtually' ride come the Autumn.
Hot on the heels of our exclusive announcement that Milestone are making an updated version of their RIDE videogame, conveniently named RIDE 2, here's a first look at some of the actual in-game action.
The teaser video has been built to show us a closer look at three of the in-game bike categories that we can expect to see in the final version, Sportsbikes, Nakeds and Supermotos.
For sportsbikes we've got the chance to get the closest that most of us will ever get to swinging a leg over the beautifully crazy Kawasaki H2R.
In the nakeds category there is the BMW NineT of course, but also something a little bit different. It took us a while to identify the machine in question, but it turns out that it's a Sartorie Meccaniche Saetta 3 1/2, which is a custom based on a Kawasaki Z350.
And then, just to show the breadth of metal that's on offer in this year's update, there is a TM SMX Supermotard Competizione in the Supermoto category. Not a bike that we have any real-world experience of, so an interesting choice for the developers to have included here.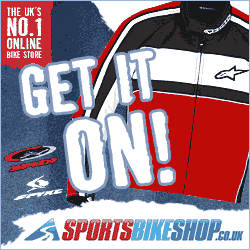 As for tracks, not much has been given away, but the video shows the bikes running around the Nürburgring Nordschleife, Macau, the National Park of Stelvio and the streets of good ol' Milano.
We're not expecting the game to be out until October (ish) this year, so that's probably enough to go on with by now!