Dunlop makes history with incredible win.
Michael Dunlop opened the 2016 Isle of Man TT with his twelfth TT win in the RST Superbike TT race.
Up until today, the average lap speed of the Mountain course was 132.298 mph, but those numbers have now been reduced dramatically with the winner's speed of 133.393 mph setting a new course record.
He also recorded the first ever 'sub 17 min' lap with a lap time of 16m 58.254s.
With a gap of 19 seconds between himself and the second place finisher, Ian Hutchinson, the performance of Dunlop is even more spectacular – especially when you consider that 'Hutchy' himself broke the previous speed record as well on this run with a 132.892 mph.
King of the Mountain, John McGuinness was third.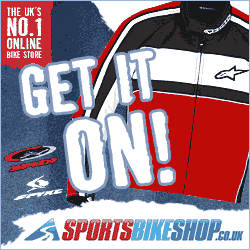 "If I could tell you where this bike was built and with the size of the team you'd never believe it. It's the smallest workshop I've ever seen. And we done it!" – Michael Dunlop
Elsewhere, Bruce Anstey on the Honda RCV213 could only manage eighth place, after carrying injuries collected after a crash in practice earlier in the week.
The fastest recorded speed on the course was at Sulby with Bruce Anstey hitting 192.3 mph on the Honda MotoGP machine.