The second Supersport race of the 2016 Isle of Man TT was won by the 'Bingley Bullet' after a thoroughly commanding ride.
After several delays caused by low visibility up on the mountain section of the course, the race that was initially scheduled for 10:30am finally got underway at 12:45pm – leaving the riders anxiously waiting around the paddock for several hours.
Not that this seemed to have affected now four-times supersport winner Ian Hutchinson though.
After his win earlier this week, Hutchy was aiming for four Supersport wins in a row and after two laps the gap between him and his nearest rival, Michael Dunlop, was 7.1 seconds as they entered the pits.
Another slick pit from @Tweethutchy's team #iomtt #iomtt2016 pic.twitter.com/apSMU1nJsa

— iomtt.com (@iom_tt) June 8, 2016
That lead had extended to 11 seconds soon after, as Dunlop experienced a little delay with a 51 second pit change compared to the 48 seconds of race leader Hutchinson. By lap three that lead was up to 11.9 seconds.
With speeds of 172.5mph through Sulby and a fastest lap of 11 mins 01.98 seconds, it was a strong win for Hutchinson and his Yamaha R6 as he passed the chequered flag with a huge wheelie of celebration. Michael Dunlop snapped up second some 18.3 seconds behind.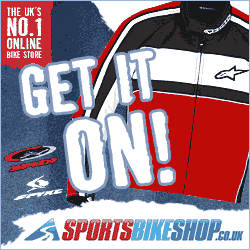 This was Ian Hutchinson's fourteenth TT win.
Dean Harrison finished in a superb third with James Hiller fourth.
Elsewhere, John McGuinness was forced to retire on lap three due to mechanical issues.