The thirteenth TT win of his career was sheer class.
It's beginning to look like Ian Hutchinson's TT. After his win in the Supersport earlier in the day, the way in which he dominated the field for the Superstock title this afternoon was nothing short of extraordinary.
The Superstock Tyco BMW S1000RR motorcycle is emphatically not the same as the machines run in the superbike class. Whilst the donor bikes may be similar, the limited modifications allowed in the Superstock class mean that the difference between the performance of the two racing classes can often be considerable.
Not that Hutchy received that message however.
With a new record speed of 133.098 mph, Ian Hutchinson's time was only fractions of a second away from the speed that Michael Dunlop achieved on the opening Superbike race on Saturday.
The maximum speed that a bike was recorded at producing during the race was 190.6mph by Hutchinson through Sulby straight.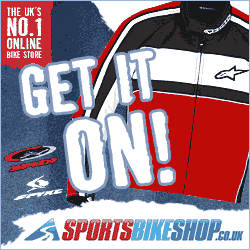 He won with thirty-seven seconds between himself and Dean Harrison.
Harrison ran an excellent race to finish second by just under two seconds on his Kawasaki ZX-10R in front of James Hillier also on a stock ZX-10R finished third.
Michael Dunlop retired early before half of the race had been completed with clutch issues.