The Senior TT race at the Isle of Man is the most prestigious of them all; it's the one that everyone wants to win.
John McGuinness, having failed to score any major results this year and with a disappointing outing in the TT Zero, was looking to add some much needed shine to a difficult week, but in reality this was always going to be a battle between Dunlop and Hutchinson.
Michael Dunlop – having won the opening Superbike race of the week with the fastest ever time around the TT course – was perhaps the favourite to return home with the famous trophy, but with Ian Hutchinson stating that he is riding some of the best races of his career and fresh from both Supersport race wins as well as a victory in the Superstock, this was always going to be a tough result to call.
John McGuinness chucking everything at it to try and stay in contention with Michael Dunlop #iomtt @iomtt2016 pic.twitter.com/WP0Hmk5fhY

— iomtt.com (@iom_tt) June 10, 2016
By the time the end of lap one had come around, Dunlop had secured a slim 2.8 second lead from the Tyco BMW S1000RR of Hutchinson in second. Peter Hickman was third with another 7.8 seconds between them. It was another another sub-seventeen minute lap from Dunlop with a time of 16 minutes 59 .30.
From a standing start Michael Dunlop had managed an average lap speed of 133.256 mph.
Hutchinson wasn't holding anything back either. His speed at the Sulby straight during the second lap was a whopping 194.5 mph. Dunlop was recorded on the same straight on the same lap at 194.0 mph.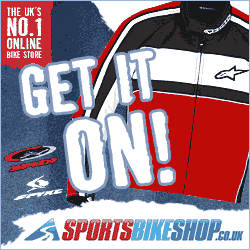 At the start of the second lap, Dunlop ran a whopping 133.962 average speed on his Buildbase BMW S1000RR and secured an astonishing lap time of 16 minutes 53.929 seconds. This was on the same lap that he would have had to slow down in pit lane. This had created a lead for Dunlop of over 9.2 seconds.
Races are often won or lost on the vital seconds spent on pit stop times of course, and after the pitstops had been made the lead of Dunlop over Hutchinson had been reduced to around 5 seconds.
As lap three came into view the leaderboard stood with Dunlop, Hutchinson and McGuinness in the podium positions; frustratingly Peter Hickman, previously in third, had to retire on the close of lap two.
When Michael has you in his sights! Bruce Anstey giving it everything on the RC213V (lap 3) #iomtt pic.twitter.com/QKLp9HnDkW

— iomtt.com (@iom_tt) June 10, 2016
If anyone thought that a 5 second lead for Dunlop would have been enough of a cushion for the Irishman, nobody had told him. The close of the third lap had seen him increase his lead up to 11.3 seconds. That was over 30 seconds quicker than John McGuinness in third.
Elsewhere the noisy Norton ridden by David Johnston had been running in a respectable ninth place on the SG5 but a crash saw the retirement of the Norton team. News was quick to reach the commentators that the rider was OK.
With the fourth lap beginning and an 11 second gap between Dunlop and Hutchinson beginning to remain consistent it was time to think about record breaking times. If he were to continue at this pace he would have smashed both the Senior TT lap record and the six lap record for the TT course.
Absolutely flying by!#teamHawkRacing #MichaelDunlop #iomtt #iomtt2016 pic.twitter.com/ZaR0ACBRvn

— Buildbase BMW (@buildbasebmw) June 10, 2016
The refueling stop came around at the end of lap four, with McGuinness exiting first and Hutchinson coming out into the course just before the leader Michael Dunlop. All Dunlop needed to do now was to keep Hutchinson within his line of vision and the race would be his.
But that's not Dunlop's style of course. And instead he overtook Hutchinson on the final lap to not only win the race, but also to cross the finish line first. 
"I came out to make amends after Wednesday and that's the way to do it! It's just class!" – Michael Dunlop
It was an incredible ride from the fearless Dunlop and he leaves the 2016 Isle of Man TT with thirteen wins in total, and a win from both of the 'big bike' races that bookended the event.
And that 133.962 mph lap!
Results (Top 3):
Michael Dunlop | 2016 BMW s1000RR | 17 minutes 14.128 seconds (131.345 mph)
Ian Hutchinson | 2016 BMW s1000RR |+31.476 (129.236 mph)
John McGuinness | 2014 Honda JMc |+31.046 (129.799 mph)
albert road! #iomtt pic.twitter.com/q6FrK1Jxew

— beckii ✨ (@BeckiiCruel) 10 June 2016