This is the bike that they hope will challenge Mugen and Victory for the Isle of Man TT title.
Saroléa are back on the island this year to race the TT Zero and this time, they've got brand new machinery and two, brand new riders.
The bike you see above is Lee johnston's SP7. The Northern Irish rider who raced the Zero electric class last year and grabbed a third-place finish for Victory/Brammo on their Empulse machine. He's expecting to do even better this year on the Belgian manufacturers' 100% motorcycle.
The second bike will be ridden by Dean Harrison, who's already storming the timing charts for practice week and is fast becoming a TT veteran when competing in 2016 will be his 6th year racing on the island.
The SP7 has been radically re-engineered since last year, with copious weight saving additions, brand new modifications to the motor and enhanced aerodynamics.
Will this year be the one where the TT Zero entrants break the 120mph average lap time barrier?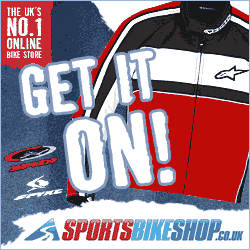 If Saroléa's quoted top speed of 320kph (198mph) is anything to go by, then with the right conditions and the right rider, the answer could well be yes.
We're big fans of what Saroléa are doing with their machines and we'll be following them closely throughout race week.
2016 Modifications:
Enhanced aerodynamics
Modified motor
Pro-Bolt Titanium Race Spec bolts and nuts
Öhlins forks with CeraCarbon carbon/ceramic tubes
Öhlins rear suspension
OZ Racing wheels
2016 Technical Specification:
Manufacturer: Saroléa
Bike model name: SP7
Frameset: Full Carbon monocoque frame
Motor type: Brushless DC electric motor triphased
Transmission: Chain – 1 speed Ceracarbon Alu-Ceramic sprockets
Front brake: Beringer 4 pistons Radial Aerotec®
Rear brake: Beringer 4 pistons Radial Aerotec®
Rear brake disc: CeraCarbon Alu-Ceramic
Suspension: Öhlins FGR 300 + CeraCarbon upgrade
Swingarm: Carbon fibre
Max Speed: 320 KpH
Acceleration: 0-100 KpH 2.8 sec
Battery: Lithium-ion
CO2 emission: 0 gr/km
Front Tyre: Bridgestone Battlax Racing
Rear Tyre: Bridgestone Battlax Racing