Smoke at Mugello would normally fill Valentino Rossi with excitement, as the yellow plumes fill the air and could often suggest a fan has exploded with excitement.
But on Sunday the smoke came from a different source and it filled Rossi with disappointment and despair.
On lap 8 of the Italian Grand Prix the engine of Rossi's M1 Yamaha went bang, leaving smoke billowing out behind the Italian and forcing him to retire from the race.
A Yamaha engine failure is a rarity, Valentino said the last time it happened to him during a race was Misano 2007, 9 years ago. But on Sunday at Mugello, it became an all too familiar occurrence. World Champion Jorge Lorenzo was coming to the end of the long straight during morning warm-up when his own engine decided to give up the ghost and smoke followed him down into the fierce first turn of San Donato.
Speaking after the race Lorenzo agreed that all things considered he had been lucky that his engine failure had happened before the race, whereas Rossi had his first home race of the season brought to a premature end.
It was Rossi who had started on pole position, his first at Mugello since 2008. The hills that surround the circuit were packed, with yellow being the dominant colour all around. Fans had been arriving from Saturday night, desperate to witness what they hoped would be a Rossi win.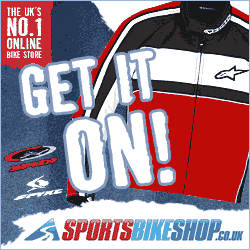 But it was Jorge Lorenzo that got the perfect start of the line, leaving those behind him with little choice but to fight among themselves for position.
Rossi stayed close to Lorenzo, watching his lines, making a few practice moves and it seemed as though it were only a matter of time before he tried to put a pass on his team-mate. But two laps before his engine gave up completely, he experienced a clutch issue; which now seems to suggest the engine had already begun to seize up.
After Rossi's retirement and with him heading back to the pits on a scooter, Lorenzo continued to maintain the lead with Marc Márquez now his closest challenger.
Further back Andrea Iannone had made his way back through the positions after a bad start, first getting past Dani Pedrosa before setting his sights on his fellow Ducati rider Andrea Dovizioso.
Iannone's pass on his team-mate was perfectly executed, going first outside Dovizioso as they hit the turn 1 braking zone, before then switching to take the inside line and the third position.
As the number of laps remaining dwindled the battle between Lorenzo and Márquez heated up. They exchanged positions and even came into contact as they hurtled down the front straight. Lorenzo said this was because he had changed where he positioned his foot on the gearbox, with Márquez saying he had seen Lorenzo almost stop in front of him and that it had been scary to see. Márquez lost an elbow slider from the contact but both acknowledged they were lucky not to crash.
On the last lap Márquez was leading from Lorenzo and the current World Champion admitted that he thought he had lost the victory. But coming out of the last corner Lorenzo was able to take advantage of the slipstream of the Honda in front of him and even he was surprised by how much it helped.
Lorenzo crossed the line just 0.019 seconds ahead of Márquez in one of the closest MotoGP finishes we've seen in a long time.
Iannone took third place to gain his second podium of 2016. Behind him in fourth was Pedrosa, with Dovizioso rescuing a bad qualifying result with a fifth place after struggling with arm pump in the second part of the race.
Maverick Viñales had been hoping to get Suzuki's first back to back podium in MotoGP since 2008, but he had an electronic issue at the start which meant he had to push hard to recover lost positions, punishing his tyres in the process. Viñales was disappointed with his sixth place as he felt he could have challenged for a podium but it was his Suzuki team-mate Aleix Espargaró that had the worse day.
Espargaró had crashed in the morning warmup and the rebuilding of his bike was finished just 20 minutes before he headed to the grid. Aleix didn't feel as confident on the rebuilt bike and on his 100th Grand Prix race he finished ninth.
Towards the back of the grid there had been very early chaos as Alvaro Bautista locked the front of his Aprilia at turn 1 after a brake issue. Unfortunately both Jack Miller and Loris Baz were also involved in the crash. Baz suffered fractures and dislocations in his right foot and will undergo surgery this week to fit plates.
Bradley Smith secured his first top independent rider award of the season as he finished seventh. The Brit had to work hard to hold off Danilo Petrucci towards the end of the race, as Petrucci put in a great effort despite feeling weaker in the last laps due to his hand injury. The Italian followed Smith over the line and finished 10th.
Smith's Tech 3 teammate Pol Espargaró struggled even more than his brother Aleix. Pol came into contact with Petrucci at the start before then crashing out after out-braking himself trying to overtake Michele Pirro. Pol was able to rejoin and finished in 14th.
With 12 races remaining Jorge Lorenzo leads the world championship by 10 points from Marc Márquez, with Valentino Rossi in third.
There's still a very long way to go and this season has already shown us that almost anything can happen.
The last lap battle between Lorenzo and Márquez was incredible to see and impossible to predict, as both Spaniards seemed as surprised by it as the fans watching.
The dramatic events of MotoGP fit perfectly into a unforgettable day at Mugello.
The Moto3 race was definitely not one you wanted to miss, with six or seven riders all trying to squeeze into turn one side by side as they fought for the lead and changed positions so often the timing screens were struggling to keep up. Brad Binder secured another victory with Fabio Di Giannantonio getting his first podium & Francesco Bagnaia finishing third.
The Moto2 race was in danger of being overshadowed by off track decisions as the first run was red-flagged after Vierge crashed and damaged part of the air fence. The quick restart procedure turned out to not be very quick, as a number of riders were caught out by the limited window to get out of pitlane. Officials originally tried to remove the riders who had gone out under a red light, but with the other riders & their bikes quickly overheating on the grid, the start was aborted.
The race was eventually restarted over 10 laps and was so thrilling that there is a serious argument for reducing all Moto2 races to that distance in the future! World champion Johann Zarco battled his way through to take the win, with Lorenzo Baldassarri and Sam Lowes completing the podium.
The next race is in Barcelona, the second home race for the Spanish riders and a track enjoyed by almost everyone. It's also a favourite of Rossi who will be looking to make a strong comeback after leaving his home race with 0 points.