They're still planning to take over the world.
Just because it's all been a little quiet since we first introduced you to Yamaha's MOTOBOT, it doesn't mean that they've not been working hard.
We already knew about Yamaha's ambitious plans for the collection of sensors and processors in humanoid form, and now Yamaha themselves are upping the ante even further.
By introducing the MOTOBOT to the man who they've already called out as trying to 'surpass' – Valentino Rossi.
MOTOBOT? Meet the Doctor.
"When I saw the video I couldn't believe it. I still can't believe it. A robot riding an R1? What is that?" – Valentino Rossi
During the video, the engineer on call tries his best to explain the situation to Rossi,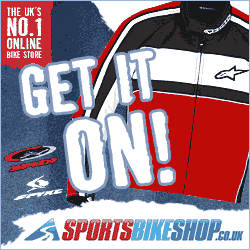 "The R1 itself is unmodified. The goal of the project is to have MOTOBOT ride the bike without [us] making any changes to it.
It does all the thinking and actions on its own."
Despite how you feel about our new robot overlords, there's no denying that this is already some impressive tech. And now it's reached the stage where the robot is riding around a racetrack.
"We are currently working on making the unique outrigger deployable so that motobot can take a super lean angle when cornering.
We're working hard at making MOTOBOT capable of reaching 200mph on a racetrack my 2017."
And then as if it's nothing, the engineer lays down the gauntlet, announcing to Valentino Rossi that "MOTOBOT was made to challenge you!"
Rossi being Rossi – and this being a carefully orchestrated publicity video – seems perfectly fine with the engineer's desire to replace him entirely with a mess of wires, servos and silicon and even offers to ride and give the Yamaha guys some extra data.
He should be careful how much he taunts that robot though… You don't know how much it's listening and how long its memory will last!