Bruce Anstey is going to race a specially prepared Padgett's Honda RC213V-S at the Isle of Man TT.
The New Zealander won the 226 mile long Superbike TT last year with a lead of 10.97 seconds over Ian Hutchinson. He also set a new race record and the fastest lap of the race with an astonishing average speed of 131.977 mph across the 37.73 mile track course.
Now, in 2016, it's been announced that he's going to be competing again but on what is arguably the greatest road-going race bike of all time – Honda's RC213V-S.
"It has always been a dream of mine to ride a MotoGP bike at the TT and this is as close as I will ever get" – Bruce Anstey, 2015 Superbike TT winner.
Valvoline racing and Padgett's have confirmed this morning that Anstey will have a race prepared version of the exotic V4 machine for both the Superbike and Senior TT races, after the team boss, Clive Padgett, was encouraged to enter the RC213V-S following a few too many pints of Guinness with a customer of his bike shop who'd just bought an RCV for themselves,
"I was having a few pints of Guinness with a customer who had just bought an RCV from us and he said wouldn't it be great to see one of them going down Bray Hill. That planted the seed in my head and it has been germinating ever since".
"The TT is all about pioneering innovation and I really wanted to do something different. I see this as being in the spirit of what Mr Honda did when he first came to the TT with his race bikes in 1959. I think this will bring even more global attention to the TT this year and that can only be a good thing.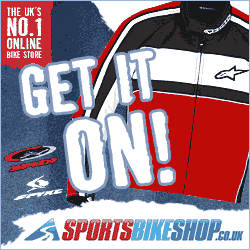 I am really giddy about it all. I might be over 50 now but inside I am still a 19 year old racer!"
A
standard RCV won't cut it across the world's most demanding road course however, so the challenge for Padgett and his Valvoline-backed team has been immense,
"It has been a very difficult project to pull together, we have had to beef the bike up for the TT course and we can't get anything off the shelf so everything has had to be made bespoke.
Things like the wheels, the K-Tech forks, the rear shocks, the brakes and the radiator guards have all had to be specially made."
And despite Bruce Anstey yet to have swung his leg over the machine, he's as convinced as anyone that the Honda V4 will be perfectly suited to the mountain course,
"The RCV should be an absolute weapon because it has loads of power but it feels as nimble as a 600.
It should be stable too as it's over 2 inches longer than a Fireblade but is still really small and compact. I am really looking forward to seeing how it handles through the quick corners because it will be able to turn so fast."
As an 'out of the crate' bike, the Honda RCV213v-S already produces 159bhp, but that's not enough to challenge for the podium when the challengers consist of racers such as Michael Dunlop, Ian Hutchinson and John McGuinness, so Padgett's have fitted an extra £10,000 worth of race components  – including both a special titanium exhaust and an exclusive ECU – that will see the engine capable of delivering closer to 200bhp.
"I love Bruce to bits and I wanted to give him the best motorcycle in the world to ride. That's what this bike is all about" – Clive Padgett.
The Honda RCV213V-S was already a very special motorcycle. If it can achieve a win on the Isle of Man Mountain course in the instantly recognisable and much-loved Padgett colours, then it's going to come close to achieving legendary status.