Hot on the heels of the success of the original RIDE videogame, Milestone are back and set to release an even bigger sequel later this year.
Details aren't due to be announced officially until tomorrow, but we here at Motofire couldn't wait to tell you about the latest announcement from PQube and Milestone.
Coming in Autumn this year, Ride 2 is said to boast brand new game modes over 200 bikes to be ridden and new tracks to conquer.
Milestone are making big noise about their plans to develop the 'relationship' between rider and machine, with 'dream bikes', 'customisation' and 'collectables' all buzzwords being littered throughout the press release.
What we have learned is that two-strokes will be represented for the first time, as will supermotards (hardly surprising considering the recent Ducati game announcement) and even Cafe Racers.
Great news on the track front too, because as well as last year's tarmac, we're also going to be treated to some classic road racing scenarios by way of  the Nürburgring Nordschleife and the Northwest 200.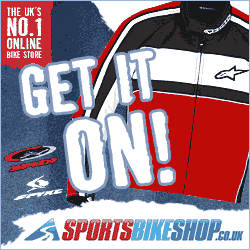 No screenshots have been offered, and the teaser trailer doesn't offer much other than intrigue, but to finally say that we live in a time where motorcycling is actually being represented in the videogame world with not one, but THREE game releases this year is quite a thing.
Especially when you consider that other than the odd MotoGP or WSBK refresh we motorcycling videogame enthusiasts haven't had anything other than the odd GTA cycle theft to keep the two-wheeled pixels oiled.