We nearly manage to ruin our fancy trip to the Isle of Man for the TT launch in a Tesla Model S because we forgot to look at our watches.
Regular Motofire readers' may have noticed that we've been a little quiet over the past 24 hours. That's because we've been travelling across England and over the sea to the Isle of Man for the official launch of the 2016 TT.
The day was an early one, we left Lincoln at 6:00am in the beautiful Tesla Model S P85D to head up to meet the guys from Headcamz to borrow their DJI Phantom quadcopter and a couple of brand-spanking new Olfi cameras.
This was were we made our fatal mistake. The dudes were really interesting and we spent far too long chatting about editing 4k video footage and Ian droned on about nerdy, camera things until we suddenly realised that we weren't going to make it in time for the 12:00 ferry crossing.
Despite turning on the insane mode of the car – the one that means it can accelerate to 60mph in a time that defies physical laws and sees your eyeballs embed themselves into the rear of your neck – we missed the check-in by five minutes and then realised that we didn't have enough juice left in the batteries to make it down to Liverpool for the 19:15 ferry to Douglas on the Isle of Man.
So… Errm… We had to blag some power from lovely people across the North of England in order to make it onto the boat. Which means that we've been a little busy travelling and squirelling away battery-juice instead of updating the website as much as we would have liked.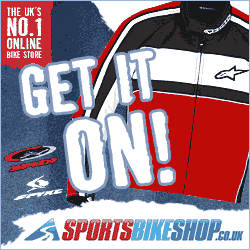 Sorry about that.
The good news of course is that we're on the island now, and we've got a load of interviews and features set-up with various IOM TT heroes and legends lined-up to shoot and write over the coming weeks.
However, for now, you're stuck with Ian generally moaning about poor timekeeping and Steve getting WAY too excited over a few slot machines and Kylie Minogue on the jukebox.
We'll have more – and way more interesting – of this kind of thing tomorrow!