Well, that didn't take long!
Never say that we're ones to miss an opportunity. So within less than four hours after Jorge Lorenzo announcing his switching from Yamaha to Ducati for 2017, we were profiting on his move by having this T-shirt available within our store.
We've literally sold some in that time, so if you want to join the extremely rare ranks of people who a) actually own this shirt and/or b) people who actually understand what the hell it is that you're wearing, then now is your chance!
You can get it now from just £21 here.
But it's not actually the most popular product in our store over the past couple of weeks. That honourable distinction goes to these little beauties:
We've teamed up with the amazing photography talent that is CormacGP to produce some quality prints, as well as other 'stuff' with his photos on, and this winged shot of Casey Stoner testing the GP16 is one of the best.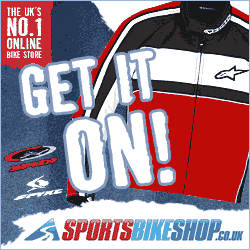 You can get it here from just £12.00
But everyone sells t-shirts and poster prints, so we wanted to do something a little different.
So just this weekend, we got around to producing these Tote-bags with a pretty famous rider on them.
What else are you going to do with that £26 hanging around in your purse or wallet?
---
In all seriousness, Motofire is produced by just two dudes and is a labour of love for the pair of us. Without your support from advertising or merchandise like this, we can't produce the amount of work that we do, and we'd all have to resort to going back to the old ways of Internet-based motorcycle news gathering.
So thank you. Every little helps, and by allowing us a meal every couple of days you're not only helping us, but you're helping the growth of motorcycling online. And for that, we can't thank you enough.