It will arrive in 2017.
One of the more surprising announcements to come out of the official Isle of Man TT launch evening last week was the reveal that a new, official TT racing game is currently being designed by the same guys and gals who put together the WRC rally games.
This is very exciting news.
It's been close to NINE YEARS since we last saw the great island race grace a videogame console; that was the TT Superbike Legends game from 2008. Featuring a fully-mapped course and bikes that made a better attempt at most at actually handling like their non-polygonal counterparts, that title has gone down in bike-gaming folklore as something of a classic.
A fact that bears itself out by its current price on eBay.
With the launch of the – again, highly anticipated – Ride from Milestone in 2015, bike-gaming fans were again excited to get their wheels spinning along a selection of iconic tracks and courses, but the Mountain Course of the IoM was conspicuous by its absence.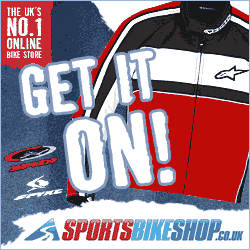 With the announcement from Big Ben Interactive this week, and the reveal that a team from French developer Kylotonn were already a couple of years' into their mapping of the course, it would appear that we finally know the reason why it wasn't included within the Ride repertoire of tracks; the folks behind the TT were planning on having their very own, unique title to celebrate the historic 37 and 3/4 mile course.
"For several years now, our team has worked together with Kylotonn's developers to create and offer the best depictions of some of the most spectacular racing events like the Isle of Man TT races." – Benoît Clerc, Head of Software at Bigben Interactive
Whilst this is all promising news, and the WRC 5 title has been received by many with pretty decent reviews, it's also worth pointing out that Big Ben Interactive and Kylotonn are also responsible for the overwhelmingly disappointing Motorcycle Club from 2014.
With a metascore of just 26 on Metacritic.com and the rabid TT fans' desire to have their iconic race immortalised with aplomb in videogame form, it's already appearing to be mired with the combination of inexperience and overexhuberant expectation that often ends in disappointment.
Only time will tell of course, and without any screenshots or development videos to give us a clue as to the success of the project, we're sat here, in hope and with everything crossed, praying to the videogame gods and Manannán that we'll soon be able to join the ranks of John McGuinness and Bruce Anstey as Kings of the Mountain!