Rossi rides the rubber to pass Lorenzo on his homecoming qualifying session.
The new Michelin tyres have drawn plenty criticism this year. with the primary issue being that the front has a tendency to drop away without giving the rider a chance to stop it. Although, at the last race in Texas, a few riders said they thought this was more down to themselves not adjusting properly and making mistakes, than it was to the tyres themselves.
The second problem? The new construction for the rear tyre is stiffer. This was introduced after Scott Redding's incident in Argentina, when his rear tyre delaminated. In Jerez this weekend, grip levels are low – almost non-existent in some conditions – and the rear tyre is spinning up causing an array of other issues.
But there is a positive about these new Michelins, for one man at least.
Valentino Rossi has put his improvements in this year's qualifying down to the new tyres. He says that he is able to go fast straight away, something he could never do comfortably with the Bridgestones.
In the first four races last year he qualified in eighth, fourth, eighth and fifth position. This season he's qualified fifth, second, third and today? First.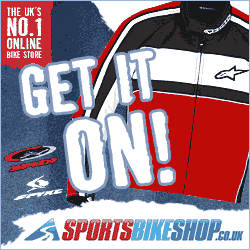 You can speculate and discuss the end of last season to your heart's content and, let's be honest, we've pretty much talked it to death now.
But the main reason Rossi didn't win the championship in 2015 was that his qualifying simply wasn't good enough. Yes, he managed to win from the third row a couple of times. But he also missed out on the top step more than once because he had to spend the first laps of races chasing down the front riders.
Qualifying on pole means you have the chance to get away from the other riders, to choose your line and to settle into your rhythm. Just look at Rossi's teammate Jorge Lorenzo. Pole doesn't guarantee you a win, it doesn't even guarantee you a race finish, but it certainly makes life easier.
Rossi seems to have tackled the issue of qualifying, for now at least.
It's not to say he'll be on pole every weekend, he's always been more of a race man than a qualifier. But it helps, and with the rear tyre spinning so much in Jerez this weekend not having to chase down the men in front of him is definitely a positive for Rossi.
It won't be an easy race for the Italian and he knows it, both Lorenzo and Márquez will be right with him. But as he gets ready to start on pole for the 62nd time in his MotoGP career, he's in the best possible position to take his first win of 2016.