Argentina brought an incredible MotoGP race, with the weekend dominated by tyres, the weather, bike swaps and crashes everywhere you looked.
The drama didn't end on Sunday either, with many teams and other paddock members being stranded in Argentina due to bad weather; leading to long bus journeys, delayed flights and taxi shortages. At one point it looked as though Friday's schedule might be affected as it wasn't just people missing; bikes and other equipment were also on the wrong continent.
Luckily, most people are now in Austin and those who aren't should be arriving soon, so the schedule looks safe for now!
Looking forward to this weekend, it could be another event-filled three days at the Circuit of The Americas.
Marc Marquez will be hoping to pick up where he left off, after a commanding win in Argentina.
Since he moved up to MotoGP in 2013 he has won every race in the USA and has also always secured pole position at COTA. In 2015, he put together the most dramatic pole lap you're ever likely to see; breaking down next to the pit wall before leaping over it, running up pit-lane, jumping on his second bike and then literally slinging it around the track to get back around for a flying lap before the chequered flag came out.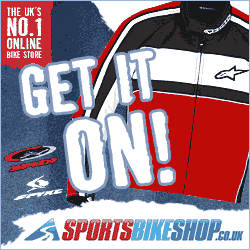 And then he put together the fastest pole position lap in the circuit's history, even though by his own admission he'd made a few errors on his way around.
It's this almost effortless dominance at COTA that means you won't find many counting against Marquez to win again this Sunday.
[interaction id="570694f11de225124962af28″]
But even with his past record in Austin, it might not be so easy for Marquez this year – or his Honda team-mate Dani Pedrosa – and Marc acknowledges this,
'The track rewards strong acceleration, which hasn't been one of our strongest points so far this year…'
In Argentina, he was able to be so dominant over the other riders because of the low grip levels, coupled with his riding style that enables him to steer with the rear tyre. COTA has more grip than Termas de Rio Hondo, which could enable other riders to get a bit closer to Marquez, especially as Honda are struggling with acceleration this year.
One team who could definitely benefit from those acceleration troubles is Ducati.
Despite both Andrea Iannone and Andrea Dovizioso crashing in the last corners of the race in Argentina (before Dovizioso pushed his bike over the line for 13th place), they showed that they were both able to be strong throughout the race and really challenge for the podium again this season.
Dovizioso finished 2nd at Austin in 2015, and says that 'the Texan circuit is one I really like'. The Ducati team definitely have no troubles with acceleration, and they'll be hoping that the aerodynamic wings will assist with the heavy braking needed at the end of the home straight.
All riders and teams will be hoping for a calmer and more settled weekend after Argentina, but this will be especially true of the Yamaha team-mates Jorge Lorenzo and Valentino Rossi.
The World Champion Lorenzo crashed out of the race last weekend and finds himself 4th in the Championship standings, while Rossi struggled with his rear tyre after changing bikes and had Iannone to thank for his 2nd position.
The COTA is a difficult track for Lorenzo, last year he struggled during the race as he was ill with Bronchitis, but both him and Rossi acknowledge that the front tyre has always been an issue for them in Texas. The track creates a lot of wear on the front and the Yamahas really rely on that tyre, because – unlike Marquez on the Honda – they use both the front and rear to steer. With the new Michelins having a very different front tyre altogether, Austin could continue to be a problematic track for Yamaha.
Every second of practice will count for the pair, and Rossi knows it's 'crucial to understand quickly how bike, tyres, electronics and this track work together'.
Another crasher in Argentina was Maverick Vinales, who until he fell had been doing a great job keeping his Suzuki right up the front of the race.
With acceleration playing such a large part, it's unlikely we'll see him win this weekend, but depending on the fate of the Ducatis, a podium is a distinct possibility in COTA. Despite his crash, Vinales has taken the positives from his strong race pace, '[Argentina] gave us the confirmation that we are going in the right direction and we can fight and challenge for the top'.
Essentially, this weekend looks to once again come down to tyres, and who can get the best of out of them.
And all of this will need to be done without compromising too much on the other areas of the bike setup. It'll be important to keep an eye on the weather too, as there is some suggestion of rain on Sunday, although this currently looks unlikely.
Whatever happens, COTA guarantees exciting racing and 2016 is still incredibly unpredictable.