After a dominating victory in Qatar two weeks ago, it looked as though World Champion Jorge Lorenzo was going to go on an unstoppable run.
But from the first practice in Argentina, it soon became clear that this was not going to be his weekend.
Arriving at the Termas de Rio Hondo circuit, the track was covered with a layer of dirt and sand, as it hadn't been used for a number of months before the MotoGP race. This meant that the riders and their teams were faced with almost non-existent grip levels, but without the data to show whether this was down solely to the track conditions or if the new Michelin tyres were also playing a part.
Despite tricky conditions, it was Honda that dominated on the first day, with Marc Marquez quickest of them all as he slid his way around the track, steering with the rear and showing off his on-the-edge riding style. For Yamaha, it was a day to forget as Valentino Rossi finished in the bottom half of the top 10, with team-mate Jorge Lorenzo finishing the day 14th.
With every session, the track conditions improved, and rider confidence increased, despite numerous crashes at turn 1 where a bump in the track surface led to many losing the front. By FP3 on Saturday, the track temperature had dropped, and although off the racing line the surface was still dirty, there was a clean line for the riders to use. Marquez was again quickest, but with him visibly fighting to keep his bike in line it was no surprise when he fell towards the end of the session.
But in FP4 events took an unexpected turn, when Scott Redding suffered a rear tyre failure. The session was red-flagged, and with no information on what had happened or the cause, riders and teams were visibly nervous. Once the debris had been cleared the session was allowed to continue, but then stopped a second time with only a few minutes left on the clock, again due to safety concerns. After the restart, Jorge Lorenzo fell at turn 1 but was unhurt and able to return to the garage.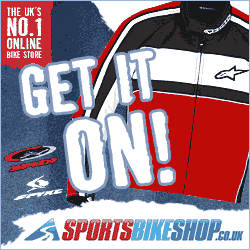 Riders entered into qualifying with no choice but to grit their teeth and hope for the best.
After the session, it became clear that Scott Redding had been running the medium rear tyre, and had done a total of 10 laps on it. The tyre had de-laminated, meaning the outer shell had separated from the inner carcass of the tyre. The outer shell then whipped up, smashing the rear of the Pramac Ducati and hitting Redding in the back leaving an open cut and large red mark. Luckily for the British rider the carcass itself stayed intact meaning he was able to run off track rather than crashing.
With still no information on the cause of the failure, riders entered into qualifying with no choice but to grit their teeth and hope for the best.
In Q1, there were many concerned faces when Loris Baz was seen gesturing at the rear of Yonny Hernandez's bike, who then pitted, but this was later shown to be due to the bike being out-of-line, not due to tyre concerns. Tech 3 team-mates Bradley Smith and Pol Espargaro were the top 2 from Q1 and went through into Q2.
Marquez was quick straight out the pits and put in an incredible time that took him under 1 minute 40 seconds for the first time. None of the other riders were able to challenge his pace, and he remained at the top of the times, even after crashing again at turn 1 at the end of qualifying. Although the crash itself was quite small, he flipped in the gravel, landing heavily on his head twice. Marquez was joined on the front row by Rossi and Lorenzo.
After qualifying, Michelin held a meeting with all the teams and Race Direction, and it was decided that the hard and medium rear tyres would be withdrawn, to be replaced by a new "extra-safe" tyre. Although not tested by any of the teams, the compound is the same as the medium rear, but with a stiffer construction. As there had been no track time with it, an extra practice session was scheduled to take place before warm-up on Sunday.
But on Sunday morning, with rain throughout the night, the track was wet and the extra practice session was cancelled.
If it had been run in the wet, and then warm-up had been dry, there would have been a second warm-up to give the riders two morning sessions in similar conditions, but teams stated they did not have enough fuel for 2 extra sessions and warm-up. With weather conditions uncertain there were more changes in race protocol from Race Direction, and more confusion over which tyres would be offered.
The warm-up was wet and had been extended by 10 minutes to enable the riders extra time on the wet tyres. Marquez was again quick, but this time had competition for the top spot from both Valentino Rossi and Andrea Iannone. Due to warm-up being declared wet the new "extra-safe" tyre was removed, and the original medium and hard compounds were reinstated for the race.
The final change to race protocol meant that the race was reduced to 20 laps from 25. If it was declared dry there would be a mandatory tyre change on laps 9, 10 or 11. If it was dry and then rained, the race would be red flagged and restarted over 10 laps. If the race started in the rain and then dried up, riders would be able to change bikes after the 9th lap. With a dry race looking the most likely at that point, riders and teams were looking at strategies on when to pit, whilst in the Repsol Honda garage there was some humour at the turn of events, as Marc Marquez had been disqualified in Australia 2013 after a similar race set-up. The race was declared dry, and the majority of riders chose the hard front with the medium rear.
When the lights went out, it was Jorge Lorenzo who darted into the lead off the line, with Andrea Dovizioso in second. But the World Champion wasn't able to stay in front for long as both Dovizioso and Rossi passed him, with Marquez then pushing Lorenzo back to 4th. On the first lap Lorenzo went from being in the 1st position to 6th, with Maverick Vinales also getting past.
With just 3 laps gone, Marquez pushed past first Rossi and then Dovizioso to take to the front. Behind him Lorenzo crashed out at turn 1, later citing a lack of patience to understand the track conditions. As the window for the bike change approached, it was a nervous time for Marc Marquez's team as the camera at the rear of his bike was hanging loose after a first corner clash with Andrea Iannone.
Maverick Vinales continued to impress after he passed both Dovizioso and Iannone to gain 3rd place, showing that the Suzuki can beat the Ducatis in certain areas.
On lap 10 both Marquez and Rossi dived into the pits. It was a perfect change for Marquez, and although not quite as spectacular, Rossi also had a successful swap. But as they returned to the track the race winner was decided, as Marquez left pit-lane with an extended advantage, while Rossi found himself stuck behind Tito Rabat in 3rd. Once Rabat pitted Rossi was back into 2nd, but still over 2 seconds behind Marquez, who was steadily drawing out his lead.
With just two corners to go, Andrea Iannone made what Race Direction have since called "an overly optimistic manoeuvre" on his team-mate Dovizioso.
With just 3 laps left, Maverick Vinales, who had been so impressive in 3rd place, crashed out at turn 1, gifting Iannone a podium position. Rossi was then pushed back to 4th as both Dovizioso and Iannone got past him, potentially leaving the Italian off the podium for the second race in a row.
But with just two corners to go, Andrea Iannone made what Race Direction have since called "an overly optimistic manoeuvre" on his team-mate Dovizioso, taking them both out of the race. Marc Marquez had already crossed the line to take the victory at this point, followed by Rossi who was able to salvage second. They were joined by a very surprised Dani Pedrosa who came home 3rd after a difficult race, later saying it was the luckiest day of his career.
There were more surprises off the podium with Eugene Laverty finishing in 4th, with Hector Barbera in 5th.
After the race, Marc Marquez said that he had felt good during the race and that he had been able to find a good rhythm, particularly after leaving the pits on his second bike. For second-placed Valentino Rossi, the opposite was true, as he stated that he had no feel from his rear tyre on his second bike, which left him unable to chase down the victory.
If after Qatar there were concerns that this season might not live up to our expectations for the unexpected, Argentina eased them. It was an incredible weekend from start to finish, with breathtaking races in both Moto2 and Moto3 as well, the former being a master-class from Johann Zarco and Moto3 being dominated by newcomer Pawi who finished with a lead of over 25 seconds.
MotoGP now heads to Texas, and with his past record and Argentina form it's hard to see how anyone will beat Marc Marquez there.
But if there's one thing 2016 is showing us, it's that we don't really know anything about this season yet!