We've only had a shop a week and a bit, and already it's gone down a storm.
But if this is the top product in the store so far? It might be time for us to have a little chat.
It all started so innocently… We thought it would be nice to have a way to perhaps actually make some money off of this website of ours; so why not sell some t-shirts?
And so we did just that.
Look at this one?
It's our second most popular shirt in the store and it features championship winning legend Casey Stoner back on a 'winged' Ducati. It's a stunning image from CormacGP and the quality of the all-over print of the shirt is INSANE! We don't blame you for wanting this adorned across your torso.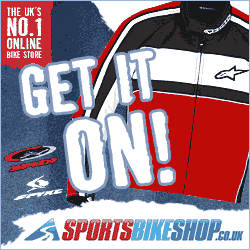 Or how about this?
Within minutes of Jorge crossing the line and giving himself his first win of the 2016 season, we had this beauty up and online available for purchase. And you lot loved it! It was tweeted and retweeted around the world and despite all of the boos and jeers from the Rossi fans whilst he was on the podium in Qatar, it's obvious that Lorenzo has a huge fanbase here within MotoFire land.
But then we got a little carried away. And we realised that we could make much more than t-shirts.
Yes, it's Valentino Rossi's face printed onto a cushion.
We're sorry ok. We thought it would be funny. We didn't think that the idea of cuddling up against the cheeky, nine-times world champion would be such an appealing prospect for you all. We didn't reckon on the legion of VR46 fans around the world willing to have something like this strewn across their homes or intimate bedroom spaces.
(But secretly we ordered one each for ourselves!)
---
So if you spend over £50 and you're one of the next twenty people to do so, we'll give you a HUGE, 20% off!
All you need to do is enter 'MOTOFIRELAUNCH' into the discount box when finalising your purchase.

What are you waiting for – GO! Shop now!