The [Honda] Mugen Shinden Go is the bike that will probably win the IomTT Zero race this year.
It's the fifth iteration of their TT racing superbike and if John McGuinness does what everyone expects him to in June, it'll be the third consecutive victory for the Japanese firm.
It was officially unveiled at the Tokyo Motorcycle Show this week, and Mugen are rightfully excited about it.
Also – as if in a pre-emptive strike at everyone on the Internet who will instantly complain that electric bikes 'don't sound right' –  they made a big deal of revving the bad boy up on stage.
And it sounds ace!
マン島TTレース神電のエンジン音! #TMCS#TMCS2016pic.twitter.com/QmNQNTOFGt

— 東京モーターサイクルショー (@TokyoMotorcycle) March 25, 2016
This is the information that we've managed to get hold of from the official Mugen website: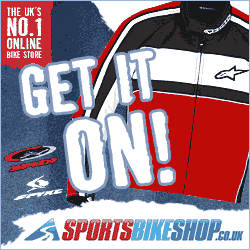 Major parts including battery system, motor, and frame on the new machine have all been newly developed, reflecting knowledge gained through the races of the past four years.
Alongside the improved output of the power systems, battery and motor, the cooling system has also been improved in order to access the increased power.
A monocoque type frame is chosen for optimum lightness and stiffness, and to improve the aerodynamics, while at the same time permitting the battery to be positioned inside the frame.
Cross link rocker rear suspension, designed and manufactured by M-Tec, is adopted to make space for the huge battery, helping to improve the machine's responsiveness.
And these are the specs:
Machine Name: SHINDEN GO
Overall Length/width/height (mm): 2,125/680/1,130
Ground Clearance (mm): 130
Seat Height (mm): 810
Total Weight (kg): 250
Tire (Front): 120/70ZR17M/C (58W)
Tire (Rear): 200/55ZR17M/C (78W)
Frame: CFRP Monocoque frame
Motor Type: Oil-cooled, 3-phase, Brushless Motor
Maximum Output (kW[PS]): 120[163.2]
Maximum Torque (Nm [kgfm]) :210 [21.4]
Battery Specification: Laminate-type Lithium-ion
Battery Output Voltage (V): 370 or more
Can't wait to see – and hear! – this monster making its way up the Mountain course.