That's a bold claim, Knox!
Press releases drop into our mailbox on a daily basis. Almost all of them make some far-reaching statement that announces a product's revolutionary new technology, but this new one from Knox piqued our interest.
For two reasons.
They claim to be made from a blend of Cordura and a new, highly-abrasion resistant material that is said to be 15% stronger than steel and 40% tougher than more traditional aramid fibres.
Oh and this ingenious, potentially evil new material is called Spectra.
Consider us intrigued…
According to Knox, Spectra is used in numerous high-performance applications, including ballistic-resistant vests, safety helmets, marine cordage, lifting slings and cut-resistant gloves.
And their new, Buxton and Brooke trousers – prices for which start at £199 – are the first motorcycle jeans to be lined with this fancy new magic.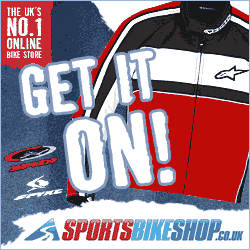 Not ones to just spit out press release information in order to just fulfil some sort of dastardly marketing-story-per-day-quota, we went back to the guys from Knox and asked for a little more information. And they replied with this video,
That'll do Knox, that'll do.
Kevlar jeans have been around for a while. And whilst many people swear by them – and for the record, we're members of the converted – the garments that are fully lined with the magic material tend to get very hot, feel very thick and don't always feel as comfortable as we would like.
Having taken a few hours researching into Spectra, it would appear to be a perfect choice for a transition into motorcycle clothing. It's around 40% lighter than Kevlar, isn't a woven structure specifically, which means that it should require less layers than it's bright yellow counterpart.
That's not to say that it'll be perfect. A lot depends upon the construction and the way in which the new material has been used by Knox of course. Spectra has traditionally been a 'composite' material which involved crossed fibres with resin layers, so there is a chance that it might be even less 'breathable' than Kevlar; leading to even stickier-knee-scenarios.
But we have a LOT of faith in Knox and having been proud owners of previous, beautifully tailored garments by the British firm, we're expecting them to get this right.