Thunder, hail and even snow during an Adventure bike launch? Perfect!
Our very good friends over at Powerdrift were lucky enough to be a part of the launch of the new, Royal Enfield Himalayan recently. And, as you'd expect, from the PD stable, their review video is both comprehensive and beautiful to watch.
Oh and the bike seems pretty sweet too!
Here's what they had to say…
Styling
The bike comes with a new instrument control, that is part digital and part analogue. And a sweet compass which is a nice detail.
And whilst is a windshield, it's non-adjustable. So it does provide some protection but there's still quite a bit of [wind] buffeting.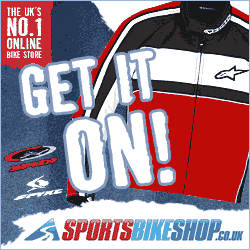 Engine
The Power Drift guys eliminate a big worry straight away by stating this is the smoothest Royal Enfield that we've seen so far. And this is the first oil-cooled engine in the royal enfield range; so from an engine perspective it would seem to be a job well done!
Ride & Handling
The monoshock rear damper is a first in the catalogue too, and it dampens you even on the worse trail. The front has a lot of travel but takes everything in it's stride pretty easily.
The soft, split seat is pretty comfortable, but what you really want to be doing is to stand-up, lock your knees and with the help of the flat foot-pegs and curved tank, you'll feel right at home.
The dual-purpose tyres that are being provided on the bike seem pretty good, but with spoked wheels, the Himalayan is probably missing a puncture-repair kit.
Royal Enfield claim that the soft front brake has been produced on purpose to prevent lock-ups, and it's worth noting that this bike doesn't come with ABS; which could have been a really good option.
Throwing this bike around in the city is a task. It's not the best of bikes for the urban commute but it is – actually – the lightest RE bike in the range at 182 kgs.
Overall Verdict
It's not the most extreme of motorcycles but it doesn't need to be. It's unlike any Royal Enfield we've seen so far and kudos to RE for making this kind of bike more acceptable.
It's going to be an exciting future.