The 2016 pre-season tests end where the racing begins; under the lights at Losail.
For riders and teams it's their last chance to work through kinks and decide on their direction before the first race. For Michelin it's when they decide on the tyres that they will provide, not only for the Qatar GP but probably for most of the season.
Day 1 was the first time that Aprilia had been seen on track at an official test this year, as they made the decision to test privately until now. Their new livery was also revealed on Thursday; which is influenced largely by the Italian flag with red and green playing a prominent part around the silver that is traditionally favoured by them. The RS-GP is Aprilia's first MotoGP prototype that was developed completely "in-house".
It was a slow start to the first day as teams waited for the sun to go down before venturing out onto a track that wasn't in the best condition.
Michele Pirro stood in for the injured Danilo Petrucci at Pramac, whilst for the first time this year both Ducati factory riders (Iannone and Dovizioso) had 2 GP16s each.
As temperatures dropped the riders ventured out, but after only a few laps Valentino Rossi fell at turn 10. He was unhurt, and able to return to the pits. Rossi was not the only rider to crash on Day 1, as Rabat fell at turn 2, followed by both Cal Crutchlow and Aleix Espargaro at turn 14 in separate incidents towards the end of the evening.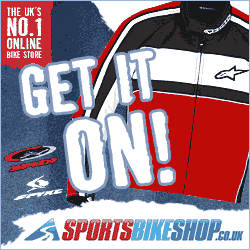 There was a brief red flag after Tito Rabat's crash, but this was deemed to be down to track conditions rather than the incident itself. At around 10pm the humidity sets in, which creates dew on almost every surface it touches, including the track surface, making it dangerous to run on.
Wings were a large topic of conversation at the end of the first day, as while Ducati only had single winglets, a small set had flown over to the Repsol Honda garage for the first time.
Despite the winglets, Honda weren't flying as both Marc Marquez and Dani Pedrosa suffered with the same issues in mid-corner and exiting, despite them running different chassis.
At Suzuki, Maverick Vinales again showed his speed, completing 44 laps and ending in second behind Jorge Lorenzo.
The top 10 at the end of day 1:
Lorenzo 1'55.452
Vinales +0.428
Rossi +0.442
Iannone +0.667
Redding +0.761
Barbera +0.868
Dovizioso +0.936
Crutchlow +1.058
Smith +1.065
Marquez +1.071
---
Day 2 was actually quite a quiet day, with lots of laps going in once the sun had set. There was an early crash for Marc Marquez, falling at turn 1 on his 4th lap. Marquez also had a lower set of wings on Thursday, rather than the higher fitted version he'd had the day before. His teammate Dani Pedrosa had wings fitted to his bike for the first time.
Pol Espargaro was another crasher on the second day, he was unhurt after falling at turn 15.
Pol's brother Aleix Espargaro was the first of Suzuki's factory duo to try out the new fully seamless gearbox. Aleix felt that he was able to better control RPM with the new gearbox but feels that there is still testing to be done and improvements that need to be made.
Maverick Vinales did not have the fully seamless gearbox on his Suzuki, but he was able to improve on his pace from day 1 and finish top of the timesheets. Vinales had been running in the low 1'56 range, but was able to push harder into the mid 1'55s. However he said that it felt dangerous at that point due to the track and tyres so they eased off.
3 riders were able to complete long runs, that brought them close to race simulation; Dovizioso, Lorenzo and Barbera. Both Dovi and Barbera were happy with their lap times during these runs, with Dovizioso setting his fastest lap in the middle of his long run, and Barbera not losing much time between his fastest and slowest laps.
It was Valentino Rossi who completed the most laps for a permanent rider on day 2 with 56, Honda's test rider Aoyama completed 62.
The top 10 from day 2:
Vinales 1'55.436
Iannone +0.072
Lorenzo +0.099
Redding +0.241
Barbera +0.379
Dovizioso +0.420
Pedrosa +0.421
Rossi +0.511
Marquez +0.610
AEspargaro +0.690
---
On the final day it was confirmed that Ducati's private test with Casey Stoner would not go ahead, as regulations state no testing at a circuit that's hosting a grand prix within 14 days. Ducati had been counting to the race day, whilst the regulations start from the first day of the race weekend.
Day 3 saw quite a number of crashes, with Rossi being one of the first after falling at turn 10, Rabat had 2 crashes, Barbera also crashed twice, Marquez fell at the last corner, Aleix Espargaro and Loris Baz had separate crashes that led to a red flag. Cal Crutchlow also crashed after losing the front running on used tyres. The bike flipped and landed on top of Cal, which led to him being taken to Clinica for some scans and check-ups, luckily despite some pain the Brit was ok.
Vinales also stopped out on track due to an issue with the bike and returned to the pits via scooter.
Wings were once again a topic of conversation as this time they appeared on the Tech 3 Yamaha of Bradley Smith, whilst Jorge Lorenzo had a new shape on his M1.
The World Champion was obviously not negatively affected by the new design as he beat the Official lap Record with a 1'54.810. This was the first lap of the test under the 1'55 barrier, and shows that the Michelins should be capable of matching some of the times set with Bridgestone.
Despite his earlier crash, Marc Marquez was able to keep pushing and found some pace towards the end of the test, which left him feeling positive after struggling to find a good feeling with the bike on the first two days. On the other side of the Repsol garage however, Dani Pedrosa was not feeling so optimistic as he felt that they hadn't made any improvements.
The top 10 from day 3 looked like this:
Lorenzo 1'54.810
Redding +0.516
Vinales +0.523
Marquez +0.592
Rossi +0.619
Iannone +0.725
Crutchlow +0.782
Dovizioso +0.890
Barbera +0.923
PEspargaro +1.072
---
What have we learned?
At the end of the test both Repsol Honda riders agree that there is still room for progress, a sentiment echoed by Yokoyama, although he feels confident that they are using the new electronics well.
While in the Movistar Yamaha garage there is far more optimism, as Lorenzo tops the times and Rossi is happy with both his time attack and race simulation. Meregalli feels that they are in a good place at the end of 3 pre-season tests, and hopes that Yamaha won't have the struggles they normally face at the season opener in Qatar.
In Tech 3 things aren't quite so clear as both riders have had some struggles with pace. Bradley Smith is certain that there is room to improve, with him feeling that the bike is only at 90% of it's potential at the end of this test. The main issue was adapting to the tyres, but he was encouraged by being able to get up to speed quickly on the final day.
At Ducati, it was a mixed test with Scott Redding performing strongly at Pramac, with good pace on used tyres, even as he continues to adapt his style. In the factory team Dovi found that with the softer front his GP16 didn't feel very balanced which meant he couldn't push as hard as he would have liked. Ciabatti says that there is still some areas that they need to try and understand, but is happy with the race simulations.
For Suzuki it was an important test as they used the fully seamless gearbox for the first time. Brivio was particularly impressed with Vinales who has brought his own big improvements, which have partnered well with the progress made by the factory.
As it was the first time on track with the other teams, Aprilia were finally able to measure themselves against others. Albesiano is happy that rider confidence is improving, and Bautista in particular is very consistent with his pace, even on used tyres.
But unsurprisingly the main talk of this test is tyres.
Michelin brought 4 types of front tyres, 2 of which were quickly deemed unsuitable, and 3 types of rears. Michelin will choose 1 of each for the front and rear allocations, which will then be made available in 2 compounds per race throughout the season. The softer tyre brought to Qatar was felt to be too soft, so the race offer will be more robust.
It was felt by a number of riders that Michelin didn't bring enough tyres to this test, which meant they had to run on used tyres more than they would have liked, including Cal Crutchlow before his crash on the final day.
We also now know that the tyre failure suffered by Loris Baz in Sepang was due to a puncture, which is one less thing to worry about!
And then there were the rule changes.
During the test the FIM released some alterations to the MotoGP regulations that were decided on in February:
The position that riders take up on the grid within the markings has been made more precise. Why this has been brought about is unclear as the lines are already fairly obvious.
There was a change to the procedure should a rider overtake under yellow flags. Previously, this would have led to the rider having to give up the place/s, now there are a number of possible penalties that could also be imposed.
Teams and riders will no longer be able to make statements or send out press releases that are irresponsible. It's fairly clear to see why this has been done, but who will decide and how?
The FIM MotoGP Stewards Panel will now decide on penalties that are not "matter of fact". These are cases that are not clear cut for Race Direction to decide on, for example; Sepang 2015. If a rider disagrees with the penalty handed to them by the Stewards they can appeal to MotoGP Court of Appeal, who will hear the appeal and make a decision within 4 days.
Penalty points were also revamped. The disciplinary actions taken when a rider receives 4 (start from back of the grid) or 7 (start from pit lane) penalty points have now been removed. 10 points still mean disqualification. To be honest, if you're not going to do anything until someone reaches 10 points, it would make more sense to lower the threshold for disqualification, otherwise you're not deterring anything at all.
Penalty points still last 365 days, however if a rider exceeds 10 points, once they have served their disqualification, 10 points will be removed from their record so that they are not disqualified again.
With testing now finished, it's only 2 weeks until the lights go out in Qatar for the start of the 2016 MotoGP season.
Excited yet?