As the riders formed the grid on Sunday evening, the excitement and expectation surrounding the first race reached fever pitch.
Off track politics were once again playing a part as a war of words had broken out between Yamaha team-mates Lorenzo and Rossi over rider contracts.
Valentino Rossi surprised many by signing a new 2 year contract to stay in the Yamaha team, as he had previously said that he would see how competitive he was able to be in the first few races before making a decision. Team boss Lin Jarvis revealed that both Rossi and Lorenzo were given new contracts on the Thursday, and that whilst Rossi had signed, he felt Lorenzo was waiting for an offer from Ducati before committing to a decision.
The claws then came out as Lorenzo suggested that Rossi had signed early because he had no other offers to consider. Valentino later hit back saying that he didn't think Jorge would make a move to Ducati, "To sign with Ducati you need to be brave, you need big balls. So I think Lorenzo stays with Yamaha."
Strong words off track, and frustrated actions on track, as in FP3 with Rossi already circulating he came across Lorenzo as the Spaniard exited the pit-lane. Valentino gestured at Jorge, showing his frustration. This later continued as the pair lined up for practice starts at the end of the session, with Valentino expecting an apology that Jorge had no intention of giving.
"To sign with Ducati you need to be brave, you need big balls. So I think Lorenzo stays with Yamaha." – Valentino Rossi
As usual the pair's opinions differed on the subject, with Rossi explaining, "I say 'why?' and I expect 'sorry' but he [look] to me like 'what you f**king want?', the Italian was displeased that he had received a penalty point after the same situation in reverse happened in Misano last year, whereas no action was taken this time against Jorge.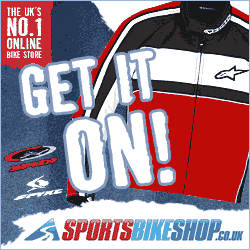 Lorenzo however felt that he had done nothing wrong, "..he had no reason to complain. Everyone knows when you exit the pits you cannot stop [completely] to let them past… I cannot be in the gravel. What can I do?"
If MotoGP bosses were hoping for a quieter season this year, it looks like they might have to wait a little bit longer.
And that was all before the season had even really begun.
The 2016 MotoGP season started with a bang, as Jorge Lorenzo put on a master-class after making a gamble with his tyre choice. The World Champion had dominated over much of pre-season testing, and again showed strong in practice, before securing pole position in Saturday's qualifying.
Despite starting from pole and getting a good start off the line, it wasn't an easy start to the race for Lorenzo, as he was passed early on by the factory Ducatis of Dovizioso and Iannone. The Italian team-mates then fought out a great battle for the lead, until Andrea Iannone crashed out of the race after touching a slippery white line.
Dovizioso continued to hold off Lorenzo, thanks mainly due to the speed advantage of the GP16 over Lorenzo's M1 down the long Qatari straight. But with one less Ducati in his way, Jorge Lorenzo was able to catch up to Dovizioso in the corners and regain the lead with 14 laps to go.
The front four of Lorenzo, Dovizioso, Marquez and Rossi had pulled away from the rest of the field, with Dani Pedrosa in 5th. The battle for 2nd then heated up as Marquez executed a beautiful pass on Dovizioso, despite him visibly fighting to stay in control of his Repsol Honda.
Still leading out front, Jorge Lorenzo was able to get into his famous smooth rhythm, and soon pulled out a lead over those behind him. Speaking after the race Lorenzo said that this was because he had chosen the soft option rear tyre, which he described as "a little gamble".
Unexpectedly this softer rear performed better towards the end of the race giving Lorenzo more grip than Rossi and Marquez who had both chosen medium rears which should have held their grip levels better in the latter stages.
In the last few laps it did look as though Valentino Rossi might catch Dovizioso for third, but both he and his bike had no more left to give, leaving Rossi off the podium in the first race of 2016.
On the final lap Marquez and Dovizioso swapped places twice, but it was Dovizioso who was able to hold off Marquez for second place.
For Jorge Lorenzo it was the perfect start to the 2016 season as he attempts to defend his World Championship, it's also the first time the same rider has won the first race of the year after also winning the last race of the previous season, since Casey Stoner in 2009.
He was obviously delighted to be back on the top step saying,
"This race has been one of the best of my whole career and that was why I was able to win…"
Not everyone had such a great start to the year though, with 5 non-finishers; Bradl, Baz, Crutchlow and Iannone all crashed, with Hernandez retiring early on. For Crutchlow he was the first to fall foul of the new unified ECU and software, as his bike lost it's location. This meant his traction control was coming on when he was on the straight, and he had full throttle at the corner where he crashed.
We all knew he'd start '16 as strong as he finished '15! https://t.co/XjkooTNGdS #MotoGP #Lorenzo BUY NOW! pic.twitter.com/k5rRnJjY1n

— Motofire (@wearemotofire) March 20, 2016
New Year, New Rubber.
The other new introduction for 2016, Michelin tyres, performed flawlessly. Grip levels lasted longer than first thought, with the peak seeming to be after 10/11 laps, as the riders had expected it to be.
As Lorenzo stated, the soft tyre worked better towards the end than expected, while the hard tyres were "on the edge" in the final laps. With so many different circuits and conditions coming up in the next few races it will be interesting to see if this positive start continues, but Michelin have certainly impressed in Qatar.
Despite many warning we wouldn't see records being broken this year, Lorenzo set a new lap record, and the race was 7 seconds quicker than last year's.
Ultimately, the race itself wasn't that different to 2015, it was familiar faces in familiar places. But as we head to Argentina for the next round that might not continue for long!
Moto2 and Moto3 never fail to deliver.
It was an exciting start in the lower classes as well, with controversy playing a huge part in the Moto2 race after multiple jump starts. Zarco, Lowes, Rins and Schrotter were the first to be given ride through penalties, followed by Nakagami and Mulhauser.
But Race Direction opened themselves up to criticism for not only choosing not to penalise some other apparent jump starts, but their decision to award Morbidelli and Cortese a 20 second time penalty at the end of the race.
This is in line with the rules, as a ride-through must be given within 4 laps, if it's too late for a ride-through the penalty is 20 seconds added on.
However, for those that were given a ride through, they were actually penalised by more than 20 seconds and had to fight their way back through the field.
The cause of the jump starts is still unknown, Alex Marquez suggested that the lights had flickered, but there doesn't appear to be any evidence that shows this. The rules around who has jump started are still very open to interpretation, so it's likely we'll see some amendments to those this season.
Luthi was crowned winner of the race, with Salom and Corsi joining him on the podium.
In Moto3 there were some breathtaking battles at the front, as the lead swapped hands continuously. Antonelli won the race in a photo finish, beating Binder by just 7 thousandths of a second.
It has been a tough few days for Antonelli, as he arrived in Qatar unwell and with a heavy fever, before crashing in practice and injury his collarbone, making his last minute dash for victory even more impressive.
What have we learned?
Due to the nature of Qatar, there's not a whole lot we can learn from the results of this weekend.
Lorenzo struggles in Argentina, but he's started this season stronger than the previous two.
The Termas de Rio Hondo circuit is also where the battle between Marquez and Rossi really started last season, with Rossi coming out on top and sporting the number 10 shirt of Diego Maradona on the podium.
It will be another difficult track for Michelin, and the riders haven't tested there so there will be many struggling to find a set-up with the new electronics.
But as MotoGP keeps showing us, it's sure to be an exciting spectacle to watch!