The new season of MotoGP has officially started, with the riders heading out for the first practice session of 2016 under the floodlights of the Losail International Circuit in Qatar.
It's set to be a fascinating year on track; with new electronics and new tyres bringing with them a range of issues that may take the teams some time to overcome. Whilst on paper they may appear separate, they work together intricately and if you're not using one to its full potential the other won't shine for you either. Both influence riding styles too, which in turn affect tyre wear. All connected in one infinite circle.
It will take time before the riders and teams can be confident that they have the best setup possible, as it will change over the coming circuits and the various conditions they'll encounter there.
New Boots
For riders the main focus will be the tyres, as they work in a different way to the Bridgestones of the past few seasons. With Michelin, the tyres have moved from more a 'front grip, less rear', to an increased rear grip; but one that loses some of the grip provided by the front tyre. Because of this, front end crashes have been common in testing, and will likely continue to be so as the season progresses. Previously, if you were losing the front, by pushing it harder you often found that the grip came back; with Michelin you're lucky if you even get a warning that the front is going from underneath you.
Whilst some teams such as Ducati have used the Open software before, and are therefore closer to this unified ECU we have in 2016, for others such as Repsol Honda it is their first time; they have always used their own. Their technicians have more to learn, more "tricks" to discover. They'll get there, but will they do so soon enough?
Free Practice
Getting back to tyres, it was a complicated start to the season as the track wasn't in the best of condition for the first free practice session of 2016. With rain yesterday followed by both Moto2 and Moto3 laying down Dunlop rubber tonight, it was a set of conditions that the MotoGP riders hadn't experienced when they tested in Qatar two weeks ago.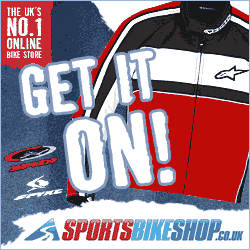 Despite showing well in testing, it was a slow start for Jorge Lorenzo, and whilst his team-mate went quickest early on, he was left outside the top 10. On the flip side, Marc Marquez followed Valentino Rossi to the top of the time-sheets and went quickest within the first 10 minutes with 1'57.258.
He didn't stay there for long though, as the World Champion, Jorge Lorenzo, soon got back into his infamous rhythm, getting first into 1'56, followed by 1'55.693 with just over 15 minutes gone. He continued to improve steadily before finishing the evening in top position with 1'55.440.
Valentino Rossi also ended strong, after heading top early on he then remained in the lower half of the top 10 before finishing second, 0.267 seconds behind Lorenzo. So a strong start for the Movistar Yamaha team, and it seems most people have them as the favourites for the win this weekend, and from first impressions it's easy to see why. The Yamaha Tech 3 team had a mixed first day as Bradley Smith was the first MotoGP faller of 2016, losing the front at turn 13, whilst Pol Espargaro ended the night in 6th.
For Ducati it was a strong showing on the first day, from both their factory and satellite riders. Iannone was using his GP16 to it's full advantage, with the long straight at Losail enabling him to unleash the Desmo's speed, as we saw him do many times last season. Hector Barbera put in some good times, particularly in sector 4 where he was the fastest. Finishing fourth, it shows that he could be one of the first "surprises" of the season, and unlike in 2015 it might not just be in qualifying, when he was able to use a softer tyre. The second factory Ducati of Dovizioso also finished in the top 10, although he wasn't able to match the times of his team-mate.
Turbulent Wings
At the end of the session there was some concern shown by other riders, including Cal Crutchlow, over the amount of turbulence that the Ducati's wings cause when you are behind them. During the Phillip Island test Dani Pedrosa raised similar concerns.
Whilst numerous riders are now sporting wings in various shapes and sizes, Ducati's seem particularly problematic when combined with the GP16's outright speed. In Moto2 and Moto3, wings have also been appearing, but it seems that IRTA are going to push for them to be banned from Jerez onwards. Dominic Aegerter has already had the "vanes" on the seat of his bike banned as they exceeded width limits.
[interaction id="56ebd67ad34d2f9b2e3afe19″]
Ultimately, the first day hasn't really told us anything new.
Jorge Lorenzo still dominated, with his team-mate not too far behind. Marquez and Pedrosa were able to put in some good laps, but finished lower down than they would have hoped and obviously still have work to do. Suzuki's Maverick Vinales again showed strongly, finishing fifth and perhaps cementing the improvements he made over winter as he hunts down podiums this year, whilst Aleix Espargaro ended in 16th. Ducati showed good speed, with Iannone getting the better of his teammate, as he did for most of last season, and their satellite riders also showed potential despite being on older bikes. Aprilia have perhaps made more progress than expected, as Bautista finished 17th, although Bradl ended the evening in last position.
We still don't know what's going to happen this season, you can only learn so much from the first practice session of the year. The teams are running their own schedules, riders are pushing to different limits. There's still a lot to be done before we get any idea how this season is going to work out.
So many questions
Even though Yamaha are strong now, will they be able to sustain that? Or will other teams overtake them as they get to grips with the changes?
We'll certainly see new faces on the podium, we may even see a new face on the top step… If we do it will be the first time since 2011 that it hasn't been Rossi, Lorenzo, Stoner, Marquez or Pedrosa.
5 years, 5 winners, time for a change?
Racing gets under way on Sunday evening, and when the floodlights come on, and the red lights go off, this fascinating season really begins.