As long as you only want to travel at 30mph.
If you're at all familiar with the Indian motorcycle market then you will have heard of Mahindra. They're one of the largest manufacturers within the region and began racing in the Moto3 championship way back in 2011.
If you didn't know of them through their motorcycling, then perhaps you'll know their cars? They produce their own four-wheelers and own a pretty large stake in South Korean firm SsangYong too.
Or how about that they're the world's largest producer of tractors? Heard of Pininfarina? You know… The guys who designed pretty much every Ferrari since 1951, or the much adored Alfa Romeo Spider of the mid to late '50s?
What I'm trying to establish here is that Mahindra are a pretty important, worldwide force in automobiles and so when they launch an electric motorcycle it should be treated as a pretty important event.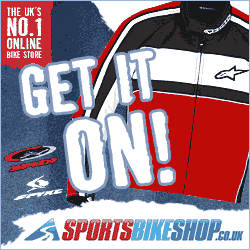 Have a guess as to what they've done?
Earlier this year, the Mahindra GenZe 2.0 (there isn't a version 1.0 apparently) was launched in Oakland, California and since then there have been happy little commuters and customers riding around the Bay Area on their peppy, electric-powered, two-wheelers.
It's a launch that's gone largely un-noticed throughout the rest of the world. And – to be fair – it's not really made much of a dent in the US market either. So what is the GenZe and why should it matter?
The GenZe 2.0 weighs less than 232 pounds; with an additional 31 pounds on top of that to cater for the integrated battery and charger. There are three engine modes and a quick output of torque. Just don't expect to go anyway far or fast; it has a range of around 30 miles and a top speed of 30 mph. It is only powered by 1 6kWh Lithium Ion battery.
Designed in the US, and produced in a manufacturing facility in Ann Arbor, Michigan, it's a US-made scooter that has been purpose-built for the Student and casual commuter market. Mahindra are picking a big deal of this provenance.
And – as if to reinforce this face – with its large 295 lbs luggage carrying capability, integrated space at the rear, and a high-riding position, the designers themselves refer to it as a 'two wheel pickup truck'. So far, so US of A!
Naturally too, as something born from out of the Silicon Valley, it has a ridiculously large touchscreen that connects to the mythical cloud and allows for performance/GPS/Rider data to be sent back and forth for continuous updates, as well as ports that enable charging of your various iAndroid devices.
What really makes the arrival of the GenZe so different though is it's low barrier to entry and low cost.
What Mahindra have done here is make a strong and clear call as to the potential uses and purpose of an electric two-wheeler and have used these scenarios as benchmarks against which they've set their design constraints.
Range anxiety? Forget about it. This isn't a bike that you're even going to attempt more than a few miles of riding on. It's for nipping across the town on, for buzzing to the shops with. It's not going to get you to the neighbouring city and back.
People want economy! The GenZe 2.0 is cheap to run, the battery can be unplugged easily and taken indoors to a standard plug socket to charge (a full 'topup' takes around 3.5 hours) and because of the design constraints on range and battery size, the cost of this little runaround is less than $3,000.
Why does this matter?
Because currently the electric two-wheel options available from well-known manufacturers within the US (and rest of the world for that matter) are limited. And relatively expensive.
The Victory (nee. Brammo) Empulse TT is a motorcycle in every sense of the word, that is powered by an electric motor. It rides like a slick 600cc sportsbike, has a top-speed of 110mph, a range of around 100 miles and costs $19,999.
Similarly, the cheapest Zero motorcycle currently available is the Zero FX. That's got a range of just over 40 miles and starts at $8,495.
In fact, the nearest 'large manufacturer' competition to the Mahindra GenZe is the BMW C-Evolution. This is BMW's first stab at an electric, two-wheeled bike and is very much in the 'scooter' mould. It has a top-speed of 80 mph, a range of 65 miles and costs a jaw-dropping £13,500 in the UK. It's not available in the US at the time of writing.
The makers of the GenZe have placed their bets and have decided that rather than compete with motorcycles on power and performance, what they should focus their efforts on are accessibility, ease-of-use and the benefits of riding.
Whether these bets pay out for Mahindra and their crew is anyone's guess. But to take up the challenge and to produce something from the 'bottom up' like this when all of the other players in the market are focusing on developing from the 'top down' is an interesting stance.
Time will tell.