But don't expect to see it for a while.
What you see in that little video playing window above these words is the first, official teaser for 'Sheene' – a Barry Sheene biopic. It looks 'ok-ish' doesn't it?
And if this report from the Evening Standard is anything to be believed, it's actually written by some, genuine, comedy-writing legends. Because Ian La Frenais and his writing partner Dick Clement are responsible for some of the greatest TV comedy to come out of the UK in the 20th century; they're the duo behind The Likely Lads, Porridge, Lovejoy and Auf Wiedersehen, Pet.
But here's the thing… Despite there being plenty of quotes from them both in that article, we can't find out anything else about this movie at all.
There's nothing on IMDB at all with reference to the SHEENE movie as a title (unless you have an IMDBpro account – which we don't). And a couple of hours searching around on Google, revealed next to nothing online that mentions either of the production companies who are referenced as working on the film.
"It's surprising it's not been done. It's about sport, but it's also about living your life to the absolute limit." – La Frenais, Writer
That's not unusual within the entertainment industry of course – companies are formed and phoenixed with scary regularity when making movies, often doing so just for the single title that is being worked upon.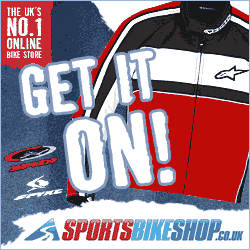 There is an official website, Twitter account and Facebook page though, so there is definitely something happening. And what we do know is that the story is being based upon the Steve Parrish and Nick Harris book 'Barry' – so it should be historically accurate at least.
As for the trailer itself? Well, it's quite possible that this has been released in order to drum up interest and – more importantly – investors. In fact, we'd say that this is almost a definite considering that the movie hasn't even been cast yet.
Finally, having followed the few clues left by the teaser website, it would appear that this is the Australian company behind it all.
So if you want to see a movie about one of the greatest sportsmen to have ever lived – and you're a millionaire who doesn't care too much about a huge return on his investment – then you should probably give them a shout.