If one thing became clear from the very start of day 1, it was that weather was going to play a big part in this test.
The track was damp from the start, and it took some time for a dry line to appear. Dani Pedrosa was the first rider to venture out on wet tyres, and while others joined him during the brief dry spells, many stayed inside the pits until the last hour or so.
While the rain meant most development work was on hold, it did give the teams a chance to try out the wet tyres and look at a rain setup with their new software. During the periods when the rain stopped falling it also gave the riders a chance to experience the new intermediates that Michelin will be bringing to the races this year.
While Sepang had been a strong test for many of the Ducati riders, day 1 was a mixed affair in Phillip Island. Danilo Petrucci topped the times with 1'31.764, with his Pramac teammate Scott Redding in fourth. But for the factory Ducati riders it was a difficult day, with Andrea Iannone not improving past tenth place, and Andrea Dovizioso not registering a time. The fellow Ducati riders of Avintia Hector Barbera and Loris Baz chose not to go on track at all.
The weather left many feeling frustrated as no-one was able to stick to their individual testing schedules, but Michelin were happy to get some feedback on both their wet and intermediate tyres.
Top 10 from Day 1: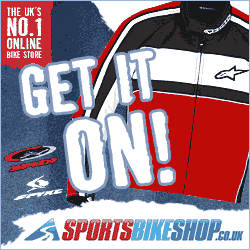 Danilo Petrucci 1'31.764
Maverick Vinales +0.719
Bradley Smith +0.826
Scott Redding +1.100
Cal Crutchlow +1.184
Valentino Rossi +1.324
Pol Espargaro +1.362
Yonny Hernandez +2.077
Jack Miller +2.228
Andrea Iannone +2.85
Full results from day 1 can be found here.
Unfortunately, day 2 also had a damp start which led to a very early crash from Suzuki test rider Tsuda.
This meant that Pedrosa could make the most of the delayed start by taking up some sunbathing; reminiscent of Fernando Alonso's deckchair moment in Formula 1 last year.
Eventually, the track did dry up, and this allowed the riders to get back onto slicks. However, there were further crashes from Dani Pedrosa and Yonny Hernandez, both at turn 4 and each causing a red flag.
There was more dry running on the second day, but Michelin were frustrated that the track conditions did not allow them to gain enough feedback on a dual-compound rear that they had designed specifically for Phillip Island. Tyres were also a cause for concern for Hector Barbera who stopped out on track and pushed his Avintia Ducati back to the pits after being unsettled by a "bad tyre feeling".
Jorge Lorenzo was also unhappy with the feeling of his bike, as he complained of stability issues with the front when the throttle was fully open. Though that could have been due to Yamaha testing new front forks, but many commentators also refused to rule out the new Michelin front compound.
Maverick Vinales was perhaps the star of day 2, as he showed glimpses of his talent at a track that is famed for often evening things out. He fought valiantly for the top spot with both Valentino Rossi and Marc Marquez, with the three of them continually swapping positions until rain (again!) meant a pause in action.
Once the sun returned however, Vinales was the first rider under the 1'30 mark at the test. Marc Marquez joined him in the 1'29s but was unable to stay in front leaving Vinales at the top of the times at the end of the day.
Day 2 top 10:
Maverick Vinales 1'29.131
Marc Marquez +0.161
Jorge Lorenzo +0.226
Valentino Rossi +0.273
Cal Crutchlow +0.540
Hector Barbera +0.723
Andrea Iannone +0.726
Dani Pedrosa +0.786
Scott Redding +0.810
Bradley Smith +0.861
Full day 2 results here.
For the final day of the Phillip Island test the track started off dry…
And good track conditions meant several riders were able to join Vinales and Marquez under the 1'30 barrier early on.
Unfortunately, just as the times fell, so did the riders, with Tito Rabat having the first crash of the day. He fell heavily at turn 1 and was taken to the Medical Centre for examination after feeling pain in his wrist, luckily the x-rays showed no damage and he was able to return to the pits.
Turn 6 then claimed both Jack Miller and Maverick Vinales, with both riders being declared as fit but with Vinales' Suzuki looking distinctly secondhand when it was brought back into the garage. Vinales' teammate Aleix Espargaro also fell at turn 6 later on, followed by a second crash in the afternoon at turn 4.
Later, Pol Espargaro fell at turn 2 before rain set in at lunch time. Once the rain cleared Scott Redding was the first out on track but the conditions weren't good enough to circulate and he returned to his garage immediately. It was becoming obvious that his day was going to follow much of the same pattern as the previous two.
After Aleix's crash at turn 4, Brits Bradley Smith and Cal Crutchlow also both fell there; worryingly, with Smith speaking of some shoulder discomfort afterwards.
Towards the end of the day there was a red flag after Danilo Petrucci crashed at turn 8 and was taken to the Medical Centre. X-rays showed that he has fractured his 2nd, 3rd and 4th metacarpals on his right hand. It is likely that he will now miss the Qatar test in March, but depending on recovery, the first race, also at Losail, might not be possible either.
More red flag waving followed as another Ducati rider fell – this time Eugene Laverty – also at turn 8, but he was unhurt and especially lucky to escape further injury, after his crash in Sepang.
With just over 30 minutes left Jorge Lorenzo crashed at Lukey Heights (turn 10), but was able to walk back to the pits before ending his test slightly early. Then in the final moments there was a crash from Marc Marquez who pushed slightly too hard and lost the front, he was largely unhurt but was experiencing a sore chin afterwards (nothing like Mugello 2013).
Despite the seeming carnage of riders and bikes, at the end of day 3 most riders and teams appeared happy with the progress that they had made, with even Michelin claiming optimism about the data they had managed to record.
Whilst all teams still have plenty of development work to do, both Valentino Rossi and Jorge Lorenzo have decided that they will keep their bike as close to 2015 specification as possible, after trying numerous "improvements".
The top 10 in the combined times at the end of day 3:
Maverick Vinales 1'29.131
Marc Marquez +0.027
Cal Crutchlow +0.217
Jorge Lorenzo +0.226
Hector Barbera +0.230
Valentino Rossi +0.273
Loris Baz +0.452
Dani Pedrosa +0.475
Pol Espargaro +0.587
Andrea Iannone +0.726
Full times here.
So after three days "down under" what do we know?
That it rains quite a lot considering it's supposed to be summer?!
We know that Yamaha have settled on a general specification, though smaller details still need to be ironed out.
Maverick Vinales will be being watched very closely this year, as we already expected, and Suzuki may have trouble keeping hold of him for 2017.
We can also see that Cal Crutchlow has had a very successful test, and although no-one's shouting about it, he showed strongly over all 3 days and that bodes well for the season ahead.
For Repsol Honda they have tried a number of different chassis', and still feel they have room for improvement, particularly with electronics. Although they have made a step forward with the unified software.
Ducati are happy with how all their bikes performed, as they have been concentrating on their 2016 chassis. In Qatar both Andreas will have two 2016 spec bikes, rather than just one each.
There's still lots of work to be done before the lights go out at the nighttime opener in Qatar next month, but all teams have made progress and so have Michelin.
So everyone, with the exception of Danilo Petrucci, is leaving Australia feeling positive and looking ahead to the third and final test at the Losail Circuit in the first week of March.