The first of February signals the end of the 2 month testing ban.
It's also the date of the first MotoGP test of 2016; held, as always, at the Sepang International Circuit in Malaysia.
Before the official IRTA test, a few other teams had decided to run a private one of their own at the track with their test riders, including Ducati and Casey Stoner. But due to track conditions they were not able to reach their full potential in the days before the rest of the teams arrived.
There were a couple of absentees from the test; Jack Miller was still recovering from his broken leg but hopes to ride at the Phillip Island test in a couple of weeks. Aprilia did not have their 2016 RS-GP ready, so will miss the test in Australia choosing to have a private test in Qatar instead. Cal Crutchlow did not start the test with the full 2016 spec from Honda, riding an evolution of the 2015 RC213V engine. But he was given an upgrade to the 2016 engine on the last day of the test.
Ahead of the first day, social media was full of photos from the riders with their new bikes.
Sepang test1 2016
Day1
Shot by Mighelon pic.twitter.com/vA88aRoino

— Valentino Rossi (@ValeYellow46) February 2, 2016
Gorra y gafas preparadas para esta tarde!/ @MonsterEnergy cap and @skullriderinc sunglasses ready for the afternoon! pic.twitter.com/QMidqChq7W

— Jorge Lorenzo (@lorenzo99) February 1, 2016
Mimando a mi princesa! / Taking care my princess! 😘 pic.twitter.com/mkEF3ls45O

— Marc Márquez (@marcmarquez93) January 31, 2016
Back on the red machine, @Official_CS27 in slow motion at the #SepangTest! pic.twitter.com/vydg8BZO4J

— MotoGP™ (@MotoGP) February 2, 2016
We knew before the test that the track at Sepang was not in the best condition, it hadn't had many bikes on it since the MotoGP race in October, so grip levels weren't great. And with the asphalt being relaid later this month the usefulness of tyre data was limited.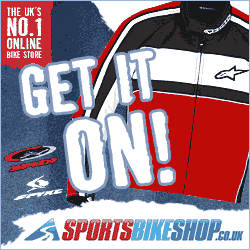 Day 1 was cut slightly short when the rain arrived within the last half hour.
Eugene Laverty suffered a heavy crash earlier in the day, at turn 4. Laverty had experience a mechanical issue with his Aspar Ducati which meant he had to jump clear off his bike as it went straight into the tyre wall at over 100 km/h. Early indications were that he had broken his right wrist, but after extensive tests it showed to be tissue and ligament damage instead. The first day hadn't gone well for Eugene even before this crash as he had struggled in the morning with electronic problems and the throttle sticking open. The Ducati definitely looked second hand when it was brought back to the garage.. in two halves!
Another faller on day 1 was Bradley Smith at the last corner, but he escaped unscathed.
On the lighter side of things there were also some new helmets being revealed for the first test. Valentino Rossi stuck to last year's theme of woolly hats and scarfs as he went with snowman design on his helmet. (Far too hot in Sepang for hats if you ask me…)
Another Italian with a fun new lid was Andrea Iannone who paid tribute to the seagull from Phillip Island last season.
Back on track, things started with a bang for Aleix Espargaró as he blew up a 2015 engine before switching to 2016 spec.
Michelin came well prepared for the unpredictable track at Sepang, with 5 different types of tyres, with various casings and profiles. They were also ready for any weather with slicks, intermediates and wets available to riders in a number of compounds.
The times at the end of day 1 meant that things started in the top 2 as they'd finished in 2015, and with Ducati showing strongly the top 10 looking like this:
Jorge Lorenzo 2'00.684
Valentino Rossi 2'01.717
Dani Pedrosa 2'01.780
Danilo Petrucci 2'01.811
Andrea Iannone 2'01.912
Hector Barbera 2'02.002
Marc Marquez 2'02.278
Scott Redding 2'02.338
Aleix Espargaro 2'02.539
Cal Crutchlow 2'02.586
(Full results of day 1 can be found here.)
Day 2 held a few more crashes with Pol Espargaro falling twice at turn 5, Lorenzo and Pedrosa also crashed there. There were also crashes for Tito Rabat and Yonny Hernandez.
But the biggest talking point was Loris Baz. He was flying down the main straight when his rear tyre failed, causing him to crash at 290 kph!
Loris had a very lucky escape as after being thrown from the bike, the bike crashed into the wall before ricocheting and following him down the track. Baz sustained a bruised elbow from the crash and was quick to praise Alpinestars as their leathers prevented further serious injury.
After Baz's crash there was lengthy red flag as the track was cleared and as Michelin attempted to ascertain the reason for the failure. In response, Michelin withdrew the softest tyres from the allocation available to the riders and raised tyre pressures.
On a lighter note, Tuesday was also the first time that Casey Stoner had been on track with most of the other riders since his retirement in 2012. It took some getting used to, seeing the '27' on the front of the Ducati after so long!
Unlike day 1 Jorge Lorenzo was not top of the times at the end of the second day, and the top 10 looked like this:
Danilo Petrucci 2'00.095
Jorge Lorenzo 2'00.155
Hector Barbera 2'00.387
Marc Marquez 2'00.843
Cal Crutchlow 2'00.899
Valentino Rossi 2'01.021
Scott Redding 2'01.049
Andrea Iannone 2'01.052
Casey Stoner 2'01.103
Bradley Smith 2'01.107
(Full day 2 times can be found here).
The start of day 3 was delayed due to damp track, and the weather would go on to play a part in the rest of the track action during the day as well.
There was a crash for Andrea Iannone, but he escaped injury, and Eugene Laverty was able to come back and complete a few laps after missing the second day due to his injured hand from day 1.
In the Repsol Honda camp there were still issues as Marquez and Pedrosa worked their way through different setups, but they were able to improve towards the end of the session, with Livio Suppo stating that there was still room for improvement despite progress being made. Although both riders were also working on both tyres and engine setup, Honda recognise that there is the biggest margin of improvement in the new electronics.
Jorge Lorenzo showed that he was having no trouble adapting to the Michelin tyres around the Malaysia circuit as he put in the first sub 2 minute lap, despite running the harder tyre.
It was also the current World Champion who finished top of the timesheets at the end of day 3:
Jorge Lorenzo 1'59.580
Valentino Rossi 2'00.556
Marc Marquez 2'00.883
Cal Crutchlow 2'00.992
Casey Stoner 2'01.070
Dani Pedrosa 2'01.161
Danilo Petrucci 2'01.217
Andrea Iannone 2'01.223
Scott Redding 2'01.229
Maverick Vinales 2'01.244
(Day 3 results can be viewed here, and combined times here).
Despite crashes, injury and the tyre failure, most teams and riders left Sepang feeling positive about the work they had done and the improvements they had made.
Some were just a little more sore than others.
The next official test is at Phillip Island 17th-19th February.