Forget the classic races, this beauty is going up against the BIG boys of the Superbike and Senior classes.
Well, this is some pretty exciting news. The glory that is Suter's MMX 500 is going to be tackling the 37.73 mile-long, Mountain course in June.
"We are currently negotiating with two former TT winners who know the track off by heart" – Philippe Soutter, Suter Marketing Director
According to Crash.net, Suter is currently finalising negotiations with two, 'high-profile British riders' and are expected to announce the first of these two 'experienced' riders very soon.
UPDATE 18th Feb 2016: Crash.net are now reporting that ten-times TT winner, Ian Lougher has been announced as the first rider for the project.
Speaking to the Crash website, the 53-year old racer sounded extremely excited,
"I liked the approach of Suter on this project," Lougher explained. "Despite the emotions, which naturally come with such a project, Suter works very objectively and professionally.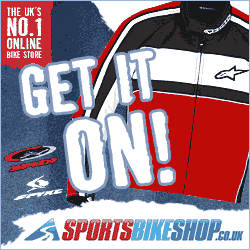 "We want to improve the MMX 500 over the next three years and do the TT step-by-step. It's clear that winning takes some time.
"But from the start we are sure spectators will be delighted to see, hear and smell us on a two-stroke!"
The Suter MMX 500 was announced late last year and is powered by a 576cc, V4 engine that kicks out 195hp, and weighs just over 126kg. That's quite a power-to-weight ratio.
Despite the MMX 500 only being available in a limited edition run of 99, €120,000, machines, if quotes from Eskil Suter (the big, boss man) are to be believed, they're planning on producing a road-going version soon. And the IoMTT will help with this development,
"We what the MMX 500 to enter the toughest road race in the world. For us this is the perfect testing ground." – Eskil Suter
Sounds like a plan. And we can't wait to hear the glorious, two-stroke roar running over the island course…