And begs the question; why would you punch a guy who's wearing a motorcycle helmet and armour?
The US-based Supercross can get quite intense, and with live coverage on Fox Sports and major sponsors like Monster Energy throwing money at the series, it can also be extremely important for the bank balance. So there is a lot at stake in any round?
A video that's been doing the rounds over the past few days [which is only available in the USA – WHY!? – currently] of Weston Peick throwing several punches at fellow racer – and rival – Vince Friese only goes to prove just how pumped-up motorcycle racers can get.
Or just how much rivalry these two already have.
Or just how aggressive these guys are.
Or just how we've only ever reported on Supercross in the US because there was a fight. And not because the racing is awesome. And that we should really watch some more of it. And that we're sorry we didn't spend more time concentrating on the winners and the racing.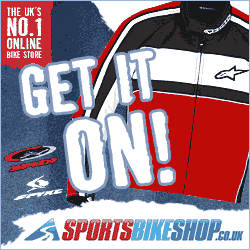 The video below is of the Round 1 Anaheim 450cc (2nd) Semi Final, the fight starts at around the 1:15 mark.