Remember when Rossi predicted the future of Lorenzo's lid manufacturer choice back in September with his own helmet design?
We all knew that it was coming. And not just because Lorenzo complained twice last season about his HJC helmets during races; in Qatar his helmet liner came loose and got in the way of his eyes and at wet and windy Silverstone his visor got all foggy and he refused to use a breath reflector.
Nope, the reason we knew that Jorge Lorenzo would switch helmet manufacturers from the Korean HJC to the French Shark brand is because Rossi predicted this all months ago! Is there anything that this man can't do? (Despite win one last championship? Ed: Naughty!)
In Misano in September 2015, Rossi showed off one of his special lid designs – as he's prone to do – and this one featured a cheeky little fish begin chased down by a big, gurning shark.
At the time everyone was speculating that this was supposed to show Lorenzo chasing down and hunting the happy little Rossi, BUT what if this was Rossi accurately predicting the future of one of the biggest helmet deals of the close-season? ILLUMINATI?!?! OMFG!?!
Ahem…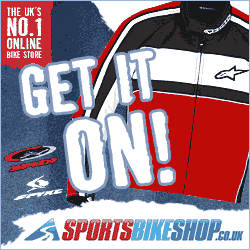 So today, current MotoGP champion and Rossi teammate Jorge Lorenzo turned down an extension to his HJC helmet contract and signed a three year deal with Shark Helmets.
"Jorge is aware that thanks to our leading position in the market for motorcycle equipment, we will be applying all our knowhow and expertise to every race in order to support him and fulfil all his expectations. We are certain that the quality of our products will meet with his full satisfaction and that this partnership will lead us all onward to resounding victories during the seasons to come." – Patrick Francois, Shark Chairman
Shark have a strong history in the world motorcycling race game, with Carl Fogarty, Corser, Tom Sykes and crash-tester-extraordinaire Randy Du Puniet all wearers of the French brand.
If they've got a mist proof visor and stronger velcro for their lining then Jorge is likely to be in an even stronger position as he attempts to retain his title next year.
Already Sportsbikeshop.com have some strong offers on HJC Lorenzo replica lids!