It looks like all change in the world of the popular racing and TV personality.
After the news yesterday that Guy Martin would be racing on four wheels at some point this year, we knew that things would be a little different this year. But now – according to a report from Stephen Davidson on MCN – Guy Martin has also announced that he won't be racing at the 2016 Isle of Man TT.
Why is he sitting this one out?
It would appear to be his love of another two-wheeled sport, Mountain Biking.
The Tour Divide Cycle race takes place just a few days after the IOM TT finishes in June and Guy has made no secret of his desire to compete in what is regarded as one of the toughest biking events around.
"I'm not done with motorbikes and if I race on the roads again this year it will be with the TAS team. The BMW bikes are mega and the team are spot on." – Guy Martin
Naturally, this will hit the organisers of the TT pretty hard, Guy has been a regular draw for fans since he was featured in the TT: Closer to the Edge movie and without him there, there will be a significant drop in 'external' interest in the event from those people who perhaps don't really follow road racing but certainly follow Guy and his exploits.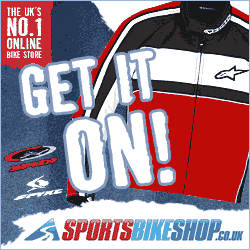 In a statement from TycoBMW, Guy is very clear to stress that he's not quitting motorcycles' for good – so this isn't a case of him retiring from the TT – and the Tyco BMW team are said to be keeping his S1000RR ready to go at short notice should he feel the urge to appear in races later on in the year.