He's swapping his Tyco BMW S1000RR for a World Rally Championship car.
He's well known throughout the motorcycle racing world, as well as in wider circles for his Television presenting work, and now Guy Martin is set to drop two wheels – all be it temporarily – for a set of four.
Martin isn't a stranger to different machinery of course, and he's fond of fast cars as well, but according to reports, the mechanic from Lincolnshire is set to join at least one round of European Rallycross in a round winning Ford Focus Supercar.
He's under contract with Channel Four for his series of 'Speed' programmes until the summer of 2016 so a quick look at the WRC calendar would suggest that he's likely to make his debut in either Belgium in May, Norway in June or Sweden in July. That is assuming that his entry to a single event is part of his TV work; it could be that he just fancies a change of pace and scenery.
"I'm sure Guy will have no problem learning to drive the car, but we will go through everything with him at a test session to give him the best chance possible at whichever event he does. We're all really excited to be working with him, he's a real racer and I think rallycross will suit him very well." – Ollie O'Donovan (speaking to Rallycrossworld.com)
What we do know is that he'll be driving a Jos Kupyers built Ford Focus – a car which was driven by Kevin Proctor to win the French round in 2012. It's currently being run by Tony Bardy Motorsport.
Motofire were at the Autosport International Motor show in Birmingham this weekend and the car was on display – already with the name of their new rider being displayed.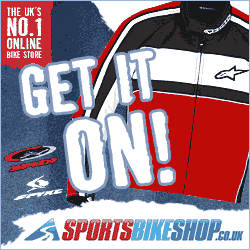 We've no doubt that Guy's 'Go big or go home!' philosophy to racing will make him an attractive proposition on the mud, regardless of the number of wheel's that he's on.