A quick delve into the people behind BMW's Heads-Up-Display [HUD] system reveals Iron Man levels of promise.
The makers of the tech which was revealed at the CES 2016 show in Las Vegas this week are DigiLens, a Californian based company who specialise in producing similar displays for the aerospace and Military industries.
Jonathan Waldern, Ph.D, is the founder and Chief Technology Officer of the company and likens the new technology to that of everyone's favourite fictional, billionaire Tony Stark,
Remember Tony Stark's visual display in his Iron Man suit?

Readouts informed him about variables like his speed and outside temperature, warned of objects in his path, and connected to a database to provide detailed information about the bad guys he was pursuing.

All of this data was positioned at eye level in a way that did not impede his ability to fly to the rescue.

Our upcoming waveguide technology, expected to be available in 2017, is a lot like that.
Many Internet commentators began bemoaning the need of new technology such as HUDs in forum and Facebook posts after the announcements yesterday but Jonathan sees the introduction of new ideas such as this – including Augmented Reality [AR] mapping of information within a riders' field of vision as essential enhancements to both a riders' experience and their safety.
"Safety measures can be built into the system to alert riders when they face any of the most common causes of motorcycle accidents, such as taking turns too sharply or failing to respond to a car turning in front of them or emerging from a side street.
Pretty cool, right?"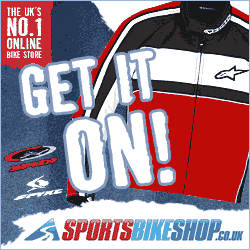 And it doesn't appear as if this technology is limited to just one manufacturer either.
In a post on their company website, Dr. Waldern goes on to outline his vision for his companies' technology and lays out a future where 'motorcycle and helmet manufacturers like BMW will use our design to develop an infinite number of innovative HUD apps, to delight every motorcyclist.
They can even tailor applications, like police, medical or post delivery for particular uses.'
The scenario that he paints for the Police's use of such a system starts to sound a little dystopian and science-fiction-scary however; he imagines a world in which cameras embedded in helmet visors could capture incidents and beam them to a central database for easy storage and retrieval, 'as facial recognition software gets better, the helmets could even help officers determine whether someone they see on a sidewalk is, in fact, the suspect they were told to look for earlier that morning.'
Both technically brilliant and terrifying all at once. 
As it is with all new developments, cost might also become an early-adoption issue too. The figures quoted for a full-production DigiLens HUD motorcycle helmet similar to that which was displayed by BMW is quoted at running to around 40% more than a regular unit.
Not a huge issue for the Tony Stark's of this world, but regular riders might want a little more than riding tips and an in-vision sat-nav to convince them to part with their cash.
But that didn't stop the fabled, almost mythical crowdfunded company Skully from raising over $2,444,000 in back in 2014, and they didn't have the technical expertise or manufacturing prowess to back up their vision. And they still haven't shipped any product to their early investors.
One thing BMW are is innately cautious about who they get into business with. So if they've put their name and reputation on the line by aligning themselves with DigiLens, you can bet that they will have done their due diligence.
To coincide with the announcement, DigiLens also announced a 'design a MotoHUD display' competition on their website, the first prize for which will be the delivery and ownership of the very first DigiLens HUD unit by BMW's CTO Klaus Froehlich himself. A prize value of which they claim could be 'potentially priceless'.
We look forward to seeing how this all develops.