It's got the potential to be the most exciting motorcycle race in history.
On Sunday, 8th November, Valentino Rossi could win his TENTH world championship in the premier class of motorcycling. If he does it will be an achievement never-before-seen in motorsport.
But he hasn't made it easy for himself.
In the last round, in Sepang, Rossi was fighting for points with last year's champion – and Honda rider – Marc Marquez before they… ahem…. Well, nobody seems to know what happened for sure, so let's just say that there was a 'coming together'.
Depending on what side of the 'Rossi is the greatest rider of all time' fence that you straddle, what you'll see in the above clash is one of the following, two things:
Rossi had every right to be upset at Marquez because he was slowing down Rossi's pursuit of championship challenger, Jorge Lorenzo who was gaining space out in front.
Regardless of what Marquez was doing, Rossi 'kicked' out at Marquez and caused him to crash, which is a disgrace!
It's been a debate that has raged on and on across message boards and facebook discussions ever since, but the Race Direction officials from MotoGP were very clear about what it was that they saw; so Rossi was docked three points AND handed a starting grid penalty. Which means that regardless of his qualifying speed for the Valencia round, he'll be starting the final and most important race of the championship from the back of the grid.
With his nearest challenger for the title at the front of the pack.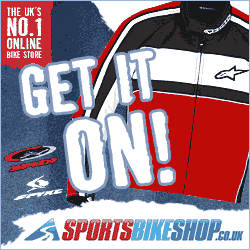 If Rossi is to win the 2015 MotoGP championship then he will literally have to come from the back of the grid to do so.
The permutations can be confusing, but with just a few points seperating the current championship leader Rossi, from his fellow Yamaha stablemate Lorenzo, it's actually quite simple.
---
If any of the following happens, Rossi wins the championship:
If Lorenzo wins the race, then Rossi needs to finish second to become world champion.
If Lorenzo finishes second then, Rossi needs to finish on the podium to become world champion.
If Lorenzo finishes third, then Rossi needs to finish sixth or better to become world champion.
If Lorenzo finishes fourth, then Rossi needs to finish ninth or better to become world champion.
If Lorenzo finishes fifth to ninth, then Rossi needs to finish no more than six places further back to become world champion.
If Lorenzo finishes lower than ninth, then Rossi will be world champion.
---
But can a rider really come from the back of the grid to contend for a podium?
Well, if anyone can, it's Rossi. And in fact there has also been some precedent this season already, as our very own Scott Redding grabbed a podium place at the San Marino GP back in September this year, despite crashing out on lap sixth and having to ride from the back of the pack.
But that was a freak race, ridden in changing weather and with Redding not feeling the pressure of having to score a result.
But it's certainly not outside of the realms of possibility.
Two things stand favourably for Rossi.
Firstly, he no longer has the pressure of qualification to worry about, and this means that he's got the freedom from this to spend a lot of time working on the set-up for his Yamaha M1 for the race itself. He's got the entirety of free practice and the two qualification sessions to tweak until his heart's content.
And then there is the added pressure on Lorenzo.
Up until two weeks ago, the championship was Valentino Rossi's to lose, all Jorge Lorenzo had to focus on was getting the best result possible and hoping that his opponent made a mistake. But now, those roles are reversed.
Lorenzo – if anything – is now the favourite for the title. That's a huge switch of expectation and Lorenzo has been known to crumble under pressure in the past. Looking at the possible outcomes above, it's reasonable to assume that Rossi could realistically manage ninth place or higher – which means that Lorenzo will have to finish on the podium in order to be guaranteed the championship.
And as we've already seen this year, all it takes is a little tussle with one of the riders up front to severely change the outcome of your race.
The championship has gone right down to the wire. And this isn't Formula One that we're talking about here either. MotoGP races have overtakes, lots of them! The leading places for this race will change hands several times during the race and every change will alter the prospects of the two, main riders.
In fact, the only thing guaranteed for this race is that it's going to be incredible, no matter what happens.
And that is why motorcycle racing is the greatest motorsport on the planet, bar none. There's a reason why Valentino Rossi is regarded as the greatest motoring sports-star in the planet. Tomorrow we'll find out just how great he truly is.