There's been a lot of noise made recently about the spate of smaller-capacity machines doing the rounds from most of the major manufacturers
Smaller bikes are nothing new, of course – they've been around forever. Most of us probably cut our riding teeth on a 125, or a 250, before moving up to something bigger (I know I did.) There's definitely been a recent shift of emphasis, however, towards bikes in the 300-400cc class; bikes that are frequently referred to as being "designed for the real world". This makes sense, of course – smaller bikes, especially with modern production techniques, are more efficient, very reliable, cheaper, and if we're brutally honest will probably have enough power for most people to enjoy their Sunday blast around the pot-holed twisties of our fair isle.
That isn't going to stop me from commuting to work on a sportsbike, but I guess I'm not really the target demographic for this sector. Let's be very frank here – new bike sales are not exactly setting the world alight at the moment, and all the major brands are desperate to get more people onto two wheels. Clearly, developing cool-looking, affordable machines is a great place to start.
Below are some notable smaller-capacity bikes that we've rounded up for your viewing pleasure. I should point out that this is not trying to be an exhaustive list – let us know your thoughts!
YAMAHA
There are a couple of recent bikes from Yamaha that have caught the attention: the sporty new R3 (which we told you about last week, together with a very odd marketing video featuring Colin Edwards),  and a more trimmed-down, retro-looking effort in the shape of the SR400.
They're billing the R3 as a "lightweight supersport for everyday use". It packs a twin-cylinder 321cc engine, and takes more than a few aesthetic cues from its big brothers, the R6 and R1. If sports-styling appeals, and your 125cc machine is just not giving you what you want anymore, this should definitely be on your list. Here's the non-weird video (still featuring Colin) to give you a better picture: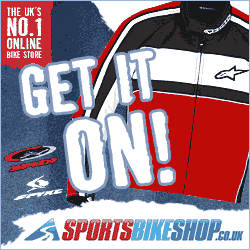 Next, and completely different in pretty much every way (it's got a kick starter, for heaven's sake) is the SR400. The original version of this bike was released 30 years ago, and this reintroduced model is clearly designed to appeal to  new riders, and also lovers of the increasingly popular custom/retro scene. The marketing materials talk about "charm", "authenticity", and "heritage", so if these sound like things you need to have in your biking life, the SR400 is probably worth a look. Although, at over £5000, you're going to have to want one pretty badly, especially considering what else that kind of money could get you. Check out this video from the chaps over at Motorcycle USA for more.
HONDA
The CBR300R is Honda's latest addition to the seemingly ever-increasing CBR range and, generally speaking, you know what you're going to get from the dependable Japanese firm (although some have accused them of getting a bit "boring" of late.) Coming in at around £4300, it's an attractive enough single-cylinder bike with "looks inspired by the bigger CBR machines". Not sure whether this floats your boat? Perhaps this'll help: a video review from our friends over at Motorcycle News 
KTM
The infamous Duke range – so long referred to as "hooligan bikes", with their wide bars and enthusiastic power delivery – has a (relatively) new addition: the the 390 Duke ABS. Very much more in the "naked" category than the "baby supersport" R3 and CBR300, the Austrian firm have produced a bike that's instantly recognisable, with trademark orange sub-frame, and the characteristic visual aggression associated with wheelie machines like the 690 and, more recently, the insane 1290 Super Duke. It's light, nimble, looks cool, and even though it came out a year ago is still worthy of serious consideration.  In this video, the popular YouTube video blogger "Cager on Two Wheels" gives his opinion of the bike in a real-world setting:
KAWASAKI
Finally (for now) is the Ninja 300. It's got a twin cylinder engine pushing out 296cc, so you know it's going to be smooth (Kawasaki claim it to be "powerful and hard-pulling", but you'll need to judge for yourself on that one.) At just over £5000, it's a lot of bike for the money, and the distinctive green Ninja marque must be one of the most recognisable in the world of motorcycles, which will definitely appeal to some.  Kawasaki say it's "designed to overshadow all other bikes in its class" – strong words, but I guess they would say that!  Tempted to see if they're right? Watch this first – an excellent, and detailed, review from another YouTube blogger, Fluxx43: