Tom Sykes and Jonathan Rea shared the honours at the Portugese circuit of Portimao this weekend, as Kawaskai Racing team's Sykes won a dry race one and Rea secured a wet win on his Pata Honda in race two.
Sykes won race on in tricky weather conditions but handled the race calmly, not letting the spots of rain put him off. After Rea gots wholeshot into turn one, he lead a stream of riders following Melandri and Sykes. It didn't take long for the KRT rider to start making his moved and Sykes was up into second by the third lap of 20, ahead of Melandri.
Looking to shape up to being a close race the top six began to bunch up with the second group not far behind. By the fourth lap the Kawasaki's outstanding power beat the Honda's RV….. on the home straight which saw Sykes take the lead and Rea slip back to third in the first corner. Sykes had a lead of over 3 seconds as they reached the halfway point of the race ahead of his team-mate Loris Baz. Lap 12 saw white flags be waved and rain spots falling around the Portugese track, conditions which saw Leon Haslam and Chaz Davies fall victim as they crashed out at turn five. Both riders rejoined the race.
Despite the gap getting smaller as the rain fell, Sykes kept a strong hold of his lead and crossed the line 2.539s ahead of Guintoli and Baz in second and third.
Race two saw the heavens open as wet conditions greeted the riders, and it was Rea who got another rocket start into the first corner, leading the way as the lights went out. The Northern Irishman lead ahead of Sykes and Davies on the opening lap. Sykes was able to escape a tense battle for second early on in the race, as Davies faught with the Aprilia Racing Team riders, however the pair of Italian bikes soon caught the championship leader on the eighth lap.
Both Melandri and Guintoli got past Sykes with ten laps remaining, and the Aprilia pair then set their sights on Rea, bringing the gap down to just over a second with 6 laps remaining. However on the 13th lap of 18 they were involved with a collision, as Guintoli went on the inside of Melandri and both riders crashed out of second and third. This allowed Giugliano to move into second position and led to a ten-wheeled fight for third position, with Haslam and Lowes leading the fight.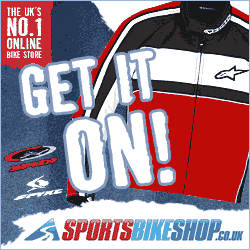 It was two Italian bikes that rounded out the podium, but instead of the Aprilia's, Davide Giugliano and Chaz Davies sat in second and third for the Ducati Superbike team.
Rea secured his first win since he won at round four of the championship, in Imola "It was unfortunate for them (Aprilia team-mates Melandri and Guintoli) because they had an better pace than me. I just tried to do my own race, from the front. As the track started to dry up we really suffered with the corner exits. Although the conditions are a real leveller, I'd have preferred it in the dry it's nice to get a win in the wet but I'll take it. I heard the rain coming on my motorhome and I just started signing and feeling giddy a little bit because I knew there was a chance, in a dry race I might not have been able to get here."
Giugliano crossed the line 6.817s back of the Northern Irishman in race two "It's very difficult conditions but my bike is very good. I am very happy for this result and for Ducati to get the bike on the podium. It is very important and now I'm going to Laguna Seca, a track I like."
Davies made an unexpected return to the podium "It was a tough race, starting from third really helped me to get up the front in the early laps. I was never expecting to get on the podium, this is my third wet weather podium as its usually in these conditions that I struggle with but a credit to the boys and the bike today it was definitely the best bike I've ever ridden in the wet, it was doing exactly what I wanted it to and I could smell the podium. Having to dice with Leon and Alex on the last laps, I pulled it out the bag, it was podium or bin it on the last laps."