One of the stories from this past weekend's MotoGP that didn't get much coverage here on UK television was that of Moto3 rider, Ana Carrasco's 'Brolly Boy'.
We can't think why?
In a world where the official channel of the premier discipline can produce a round-up of 'Grid Girls' and it gets more views than some of the racing action from the winner of the weekend, it still surprises us that this is one of the only sports on the planet that allows men and women to compete together on the same track/field.
Try getting FIFA to agree to having all variations of the chromosome charts on the same piece of grass?
There's no denying that the teenage Ana is doing great things for girls who can often feel marginalised within the sport and she's a wonderful role-model.
But is lowering your game to that of the misogynist opposition the way to make that argument? Looking at Twitter, it would seem that the majority of the female commentators really appreciated the effort.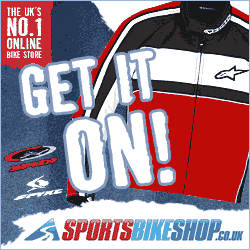 It's just a shame that our TV screens didn't make more of a show of it, so that we could really start discussing the inequalities on the asphalt.