Dean Harrison made it a fortnight to cherish for the family as he rode to his debut TT win in Friday's Lightweight event – just six days after his father Conrad's maiden triumph on the island.
Harrison led the three lap race in its entirety after the first timing checkpoint at Glen Helen to bring his RC Express Kawasaki home 14 seconds ahead of James Hillier and podium debutant James Cowton after three laps of the 37 mile mountain course.
It marks a triumphant fortnight for the Harrison family with Friday's result meaning Conrad and Dean are the first father and son to win TT races in the same week. To cap the day off Dean's brother Adrian grabbed a top fifteen finish with a strong ride to 14th.
Qualifying had been close in the 650 class with Ivan Lintin heading the timesheets ahead of the returning Ryan Farquhar and Ollie Linsdell. There was drama as soon as Union Mills on the first lap as Lintin's Kawasaki came to a halt just two and a half miles into the race. That left Harrison to head 2013 winner Hillier by half a second at Glen Helen, an advantage he would gradually increase to nine seconds at the grandstand. A quick starting Linsdell placed third at Glen Helen but the Paton had slipped down to fifth by the end of the lap.
Cowton established himself in third ahead of Keith Amor, Linsdell, Jamie Hamilton and Farquhar as all of the top men pitted at the end of the first lap. Podium candidate Lee Johnston retired in the pits at the end of the first lap after placing tenth at Ramsey. Johnston was complaining of pains on the start line and it appeared the injuries sustained in Wednesday's Supersport spill with Josh Brookes were too much for the Fermanagh rider.
Results on the second were distorted somewhat by Michael Russell, who didn't pit until the end of lap two. The number 45 and was temporarily circulating inside the top three at Glen Helen, eleven seconds behind Harrison. He eventually retired at Quarter Bridge on the final lap.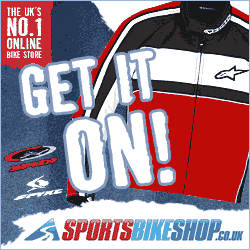 Harrison pulled a further seven seconds on Hillier on the second lap and with Cowton closing to within three seconds with a lap to play Hillier, leading on the roads, upped his pace to finish with a lap of 118.909mph, two seconds outside his lap record set during the 2013 race.
With Harrison looking after his Kawasaki and maintaining his lead it was left to Amor to push Cowton for the final podium position. Starting the final lap he trailed the Yorkshireman by nine seconds, which he reduced to two seconds on the run to Glen Helen, then another two by Ballaugh. Taking advantage of Harrison's slipstream, the Scot set the fastest lap of the race at 118.989mph. Cowton managed to hang on to take a fine podium finish at his first TT.
Jamie Hamilton equalled his 2013 result with a comfortable fifth ahead of Linsdell, whose Paton was consistently the fastest machine through the Sulby speed traps, Farquhar and Dan Cooper.
Martin Jessopp continued his excellent debut on the island by snatching a top ten finish of Dave Johnson on the final lap. Ex-Moto3 man Danny Webb claimed his best finish at this year's event to finish two places back in twelfth.
But the plaudits will rightly go to Harrison who said after the race, "I could go to the pub now! Weather conditions were good, there were no damp patches and the visibility was good. I didn't know Ivan had dropped out, he was the fastest man all week through the speed traps and practice times. I expected him to be pushing on so I just got stuck in from the start and got 'P1 +0.5'. I thought it was either him or James. The gap were getting bigger and bigger and I felt comfortable to be honest."
Speaking in the post race press conference Hillier said, "If someone had told me last week that we were going to get second I'd have taken it there and then because we were struggling. But the boys have worked hard and we took a bit of a gamble in that race. I don't think that was as good as the bike I rode last year but it was good enough. I can't say I'm disappointed with second, I'm pleased for Dean – he absolutely deserves that. I was watching the pit boards and he was picking two seconds away here and there. I saw Ivan [Lintin] pulling over on the first lap. That was my carrot but other than that it was a problem free race. The clutch was slipping a little on the final lap but we'll maybe come back next year and try again."
Having scored a double podium finish in the class at the North West 200 James Cowton was delighted with his effort. "When I came here I thought finishing is one thing as we've had a couple of non finishes on the bike," he said. "When I come to this race I thought if we could get in the top six or top ten we'd have been going home with a good finish there. I got my head down, pushed hard and knew I was in my comfort zone. It worked and I'm over the moon to be here so thank you to everyone that helped me. We had been using the same tyre through practice so I knew it would do the distance. The last lap was my fastest but coming over the mountain I had a couple of big slides. Dean came past me on the second lap, I tried to keep on to him and push on. Well done to Dean and James, they made a really good race."
---
Top ten from the Lightweight TT:
1. Dean Harrison            2014 Kawasaki Ninja
2. James Hillier               2012 Kawasaki ER6                         +14.626s
3. James Cowton            2013 Kawasaki ER 650                    +9.999s
4. Keith Amor                2014 Kawasaki ER6                         +3.410s
5. Jamie Hamilton           2014 Kawasaki ER6                        +28.026s
6. Ollie Linsdell              2014 Paton S1                                  +30.326s
7. Ryan Farquhar            2013 Kawasaki ER6F                      +19.109s
8. Daniel Cooper             2012 Kawasaki ER6                         +7.955s
9. Michal Dokoupil         2010 Kawasaki ER                           +49.439s
10. Martin Jessopp          2014 Kawasaki ER650                     +1.684s
Post first featured on paddockchatter.com; republished with permission.