Michael Dunlop sealed the victory for BMW on their return to the Isle of Man TT after 75 years, in the opening DaineseSuperbike TT race of 2014.
Dunlop got his TT campaign off to a flying start and secured his eighth TT win. He rode a consistent and fast race, taking the lead from James Hillier on lap one before charging a 20.5 second to Guy Martin who finished in second place. Honda Racings Conor Cummins finished a further 3 seconds behind in third.
The outright lap record was broken three times during the race, twice by Dunlop who set an average speed of 131.89mph. However, the record was stolen from Dunlop on the final lap by fourth-place finisher Bruce Anstey with an impressive 132.30.
Dunlop said: "I got a good start, was a bit nervous early on but after the first couple of laps we just plugged away and got caught up to Guy. People thought I was mad leaving Honda and going to BMW which has never been proven, but I think we proved it. It's capable of everything it needs to do. It has a great package and there is still a lot to come from the bike.
"I can't say enough about the boys in the team who were up all night working on the bike and now I have another five races to come. I came here wanting to win a race, I've done that, great, but there is a lot more to come from this BMW."
Martin proved that he remains a top competitor, but couldn't quite grab that all important first TT win. He said: "That was a good effort and I really enjoyed it but I suppose it's another second place. The bike never missed a beat and the boys did a mega job today, but I have to take my hat off to Michael as he's riding well.
"I knew Cummins was catching me on the final lap and I actually thought I might have to re-pass Michael on the road and make an extra big effort, but I right enjoyed that. It's not even dinner time yet, so I suppose we can go do a day's work now."
Cummins sealed the final spot on the podium on his maiden TT race on-board a Honda and showed his strong recovery from his crash at the circuit in 2010.
The Honda Racing rider said: "It's been a tricky few years since my accident and I'm just so happy to be here, I can't say much more than that. I'm feel like I'm riding well and I'm learning all the time on the Honda Fireblade. I was really pushing for second place and I had good boards all around the course, so thanks to the boys that were out there. I can't say a big enough thank you to Honda Racing, my sponsors and all the people that have helped me get here today."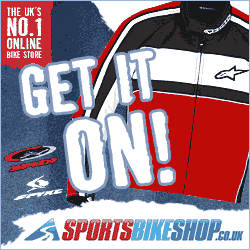 Post first featured on paddockchatter.com; republished with permission.